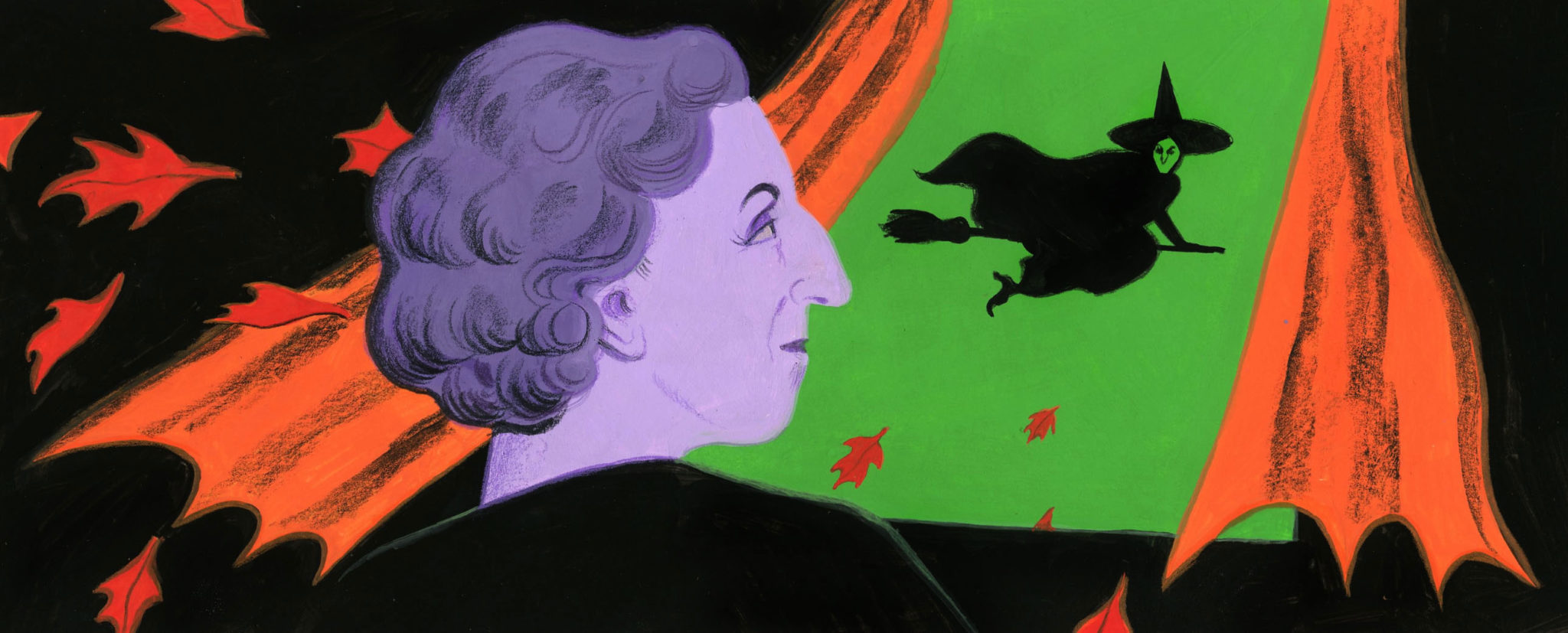 Illustrations by Sophie Margolin .
Margaret Hamilton almost did not get cast as the Wicked Witch of the West in the 1939 film TheWizard of Oz.

The former kindergarten teacher had already donned the black hat in a Cleveland stage production of L. Frank Baum's classic children's book, but producer Mervyn LeRoy had initially wanted a more prominent actress to play the witch in what would become one of the most iconic films of all time.
A single mom with a spiked chin and prominent nose, Hamilton was not exactly a casting director's mental image of a movie star. She would often hear that she needed plastic surgery to remove the bump on her nose if she ever wanted to move her career beyond community theater and brief appearances in films.
But Hamilton had gone into acting for the money, so she looked past these indignities and accepted any role that came her way. By the time the auditions for TheWizard of Oz came around, she had already played her share of spinsters and villains, both in theater productions and Hollywood films like Way Down East and TheFarmer Takes a Wife, both released in 1935.
Margaret Hamilton as the Wicked Witch of the West, with Judy Garland as Dorothy Gale in "The Wizard of Oz." Photo courtesy of Wikimedia Commons .
Still, Hamilton had not yet secured the leading lady type of role that would have earned her serious consideration for the part of the Wicked Witch. But after Oscar winner Gale Sondergaard declined the role, concerned that it would make her look too ugly, LeRoy decided to take a chance on Hamilton. She was in her late 30s at the time and, by now, way beyond caring about what people would think of her looks.
Plus, she had the cackle. Thanks to her career as a kindergarten teacher, Hamilton had a keen understanding of child psychology. When the time came for her to audition for TheWizard of Oz, she played up the cackle that sent shivers down the spines of the producers and other cast members, and would later come to terrify generations of kids.
During production, no one suspected how successful the Metro-Goldwyn-Mayer film would become. The actors focused merely on playing their roles and enduring the arduous days of filming. While Judy Garland was adhering to a famously strict diet of chicken soup, coffee and diet pills, Hamilton was covering herself in green paint and putting her life at risk for the dangerous stunts expected of the Wicked Witch of the West.
In one scene, Hamilton escapes from Munchkinland in a flaming ball of fire, swearing an oath of vengeance. Paul Miles Schneider, a Wizard of Oz expert who met Hamilton when he was 6 years old in 1969, said that filming this scene required her to slip into a trap door before the fire was set on stage. Hamilton would wave her broom and cackle as the awestruck munchkins looked on.
In one of the takes, the fire spread before Hamilton had time to get into the door. Her broom caught ablaze, giving her painful second-degree burns on her face, and third-degree burns on her hand, as stage assistants frantically rushed to her aid.
In addition to putting out the fire, they hurried to stop the copper-based makeup paint from getting into her bloodstream. "If you have an open wound and you have copper going into that, you can die," Schneider said. "They worked really hard to remove the makeup very fast. It was a scary time."
The pain was, as can be imagined, unbearable. As crew members rushed to remove Hamilton's green paint with rubbing alcohol, the fire still blazing, Hamilton tried to maintain her composure. It took her about six weeks to recover from the accident, and afterward she had to wear green gloves to cover serious scarring on her hands.
Still, Hamilton persevered and continued playing the part. She even refused to seek compensation for the accident because she was worried that, even if she got some money, she would become a Hollywood pariah. Instead, she had the producers agree not to shoot any more scenes using real fire, and to tone down the other dangerous stunts.
Hamilton delivering her now-iconic line as the Wicked Witch of the West. Image courtesy of Giphy .
Shooting continued, and in 1939 the film hit the big screen. Compared to Judy Garland's Dorothy, Hamilton's role was minor — she had less than 12 minutes of screen time. Yet, even though it took years for the film to be recognized as a critical success, Hamilton's iconic line, "I'll get you, my pretty, and your little dog too!" as well as the scene where she melts at Dorothy's feet, have become two of the most enduring moments in cinema history.
By the 1960s, the film had reached cult status. Schneider's mother, who had worked as an actress, and his grandfather, an executive at Warner Brothers, made connections to set up a backstage meeting for the then-6-year-old while on a family trip to New York. By then, nearly three decades had passed since the release of the film, and Hamilton had gone back to her roots in theater. She was starring in a Lincoln Center revival of Oklahoma!
Even though they were only able to speak for a few minutes, Schneider would never forget the experience of meeting the actress from his favorite film. He remembers Hamilton as kind and patient in answering his questions about how she was able to fly and disappear into a cloud of smoke.
"She did not treat me like a little kid, even at the age of 6," Schneider said. "She treated kids like people." Hamilton explained that, to shoot the scene in which she disappears into the air, she had worn a long dress, which crew members tacked to the floor and pumped up with dry ice. As the fumes came up, Hamilton was lowered onto a platform that was not visible because of the smoke.
Schneider says such interactions were not at all out of character for Hamilton. "She was wonderful with children," Schneider said. "I don't know if she was making up for the sins of the movie and being the most frightening thing on the screen, but any child who met her had a warm, loving experience."
Even though their meeting was brief, Hamilton promised to send a postcard to Schneider's home in Kansas — and he received a signed one less than a week later. She also agreed to help him with a school assignment by becoming his pen pal. Over the course of an entire year, Schneider and Hamilton exchanged letters. He would write about his friends and days at school while she would reply with little notes of encouragement and stories from the theater.
Hamilton received hundreds of letters from other children all over the country, who would recall her notorious witch cackle and, in some cases, ask why she was so mean to Dorothy. Even during filming, Hamilton worried that her role would leave kids with the impression that she was scary — according to another Wizard of Oz expert, film critic Ryan Jay. Mild-mannered and sweet in real life, Hamilton would never have wanted anyone to be terrified of her.
"Everyone described her as so sweet and so approachable and so kind in her demeanor and personality," Jay reported. "People of all ages wouldn't believe it was really her until they asked her to do the cackle."
But the role of the Wicked Witch of the West would take on a life of its own. Hamilton's ability to scare became firmly rooted in the public's mind. In the years that followed the film, she would take on a number of different roles, but it became nearly impossible for anyone to see her as anything other than the witch bent on destroying Dorothy and her dog Toto. Eventually, she started turning down opportunities to appear as the Wicked Witch.
"I suppose I've turned down a fortune too, but I just don't want to spoil the magic," Hamilton told the Associated Press in 1973. "Little children's minds can't cope with seeing a mean witch alive again."
Post- Oz, Hamilton did play more witches, though, in films like the 1951 Comin' Round the Mountain. She also played the mother of Morticia Addams in a few episodes of The Addams Family, as well as villains and spinsters on Broadway. Hamilton would also put her Wicked Witch of the West costume back on for episodes of Mister Rogers' Neighborhood and Sesame Street (which were eventually pulled from the air after parents complained that they were too frightening, even though Hamilton never missed a chance to help children see the witch's human side.)
"[The Wicked Witch of the West] is also is what we sometimes refer to as 'frustrated' — she's very unhappy because she never gets what she wants, Mr. Rogers," Hamilton said in a 1975 episode of Mister Rogers' Neighborhood. "Most of us get something … but as far as we know that witch has never got what she wanted."
But eventually, she tired of playing the villain. She started turning down offers to recreate the witch altogether. She felt it was just too scary.
Hamilton with Oscar the Grouch on "Sesame Street," 1976. Photos courtesy of Wikimedia Commons .
"Many times, I see mothers and little children, and the mothers always recognize me as the witch," Hamilton said in 1973. "Often, they say to the kids, 'Don't you know who she is? She's the witch in the 'Wizard of Oz.' Then the kids look disappointed and say, 'But I thought she melted.' It's as though they think maybe I'm going to go back and cause trouble for Dorothy again."
Hamilton died in 1985 in a nursing home at the age of 82, after starring in more than 75 films and stage productions. Even though her fame had made it impossible for her to ever go back to regular school teaching, she still found a way to be around kids her whole life. At different points, Hamilton served on the Beverly Hills Board of Education, worked as a Sunday school teacher, and even made a guest appearance at a university children's literature class. While it cannot be said definitively whether she would have preferred to spend her life leading a classroom full of kids, it is safe to say that the impact she had on children was incomparable — even if it came from playing one of the world's scariest villains.
Veronika Bondarenko is a professional journalist whose work has appeared in Slate, Refinery29, Business Insider, and The Gothamist. She has a bachelor of arts in English and French from UBC and a master of journalism degree from the CUNY Graduate School of Journalism.