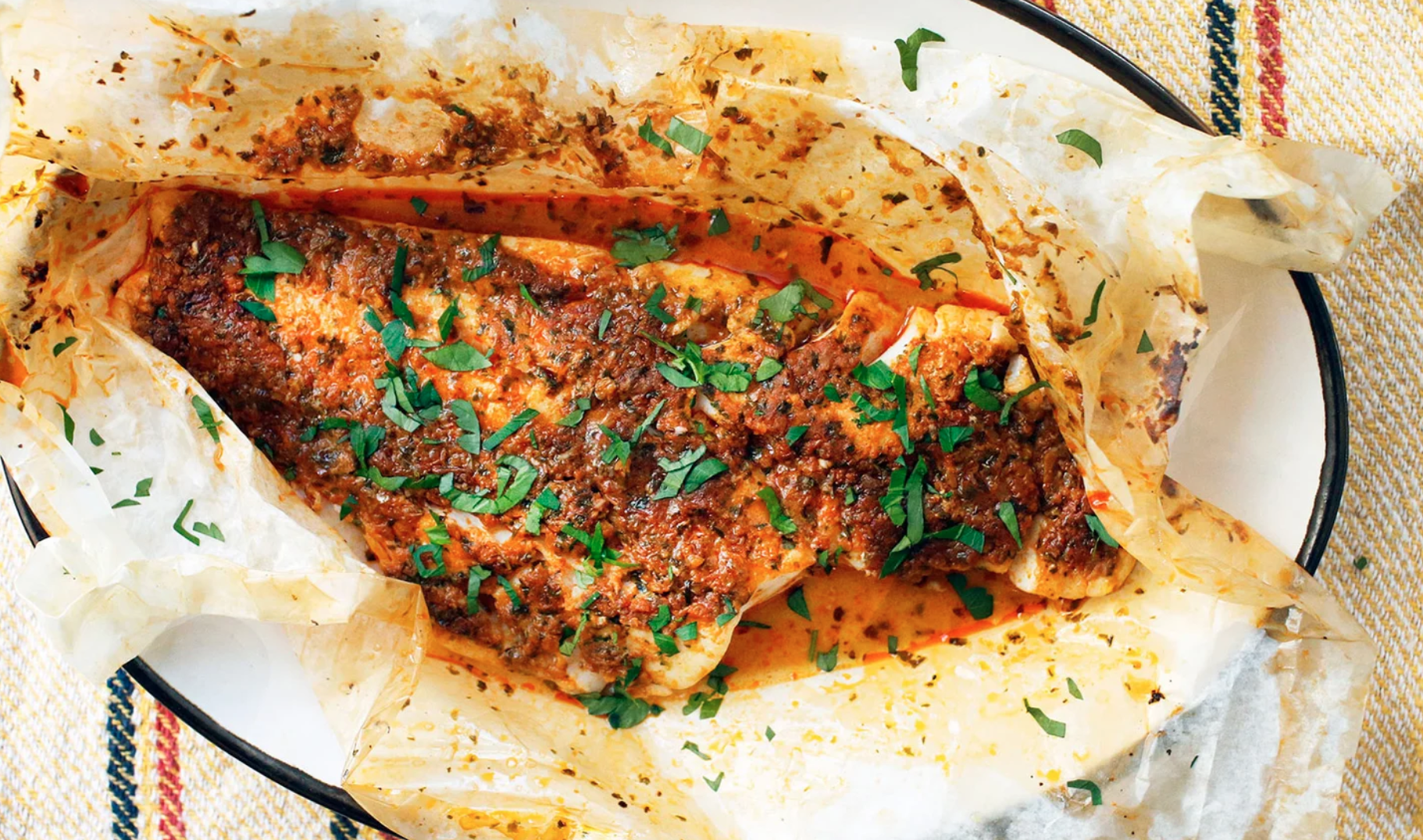 Cookbook author Julia Turshen came up with this recipe while living in a small studio apartment in New York City. Cooking fish wrapped in a layer of parchment paper was one of her first "small victories," creating an odorless, mess-free dinner with very little effort and cleanup. The chermoula in this recipe is a North African-inspired pesto of sorts, made with parsley, cilantro, paprika, and cumin, though an Italian-style basil pesto would work just as well.
What You Will Need
Yield: serves 4

Time: 30 minutes
Ingredients
1 clove garlic, minced (1 tsp.)
2 Tbsp. fresh Italian parsley leaves
2 Tbsp. fresh cilantro leaves
2 tsp. sweet paprika
1 tsp. ground cumin
1⁄2 preserved lemon, roughly chopped
1⁄4 cup extra-virgin olive oil
1⁄2 tsp. kosher salt
One 1½-lb. skinless halibut fillet, or another firm white fish, such as cod
Instructions
Preheat the oven to 400°F. Line a large rimmed baking sheet with a 12-by-35-inch sheet of parchment paper.
In a blender or food processor, purée the garlic, parsley, cilantro, paprika, cumin, preserved lemon, oil, and salt together until smooth.
Put the halibut toward one side of the prepared sheet. Pour the chermoula over the top and rub all over the fish. Fold the empty half of the parchment over the fish so that it's completely enveloped in paper. Fold the edges of the parchment together, making small overlapping folds as you go, so that the whole package is crimped. Once you get to the end, tuck the parchment fold underneath to keep it from opening.
Bake until the parchment is browned and the fish is fragrant, 15–20 minutes (thinner fillets will take less time to cook than thick, center-cut pieces). At this point, carefully (there will be hot steam) cut a small slit in the top of the parchment package and test the fish with the tip of a paring knife; it should flake easily and be opaque throughout. If the fish is not cooked enough to your liking, continue baking for 5–10 minutes. Don't worry if the parchment is a little open. Once the fish is cooked through, use 2 spatulas to transfer the parchment package to a serving platter. Use a paring knife or kitchen shears to cut the package open; serve immediately.