Illustrations by Justin Klanke.
In mid-November 1986, two women came into a funeral home in Jacksonville, Florida, to claim the body of Thomas Mills, who had succumbed to an aggressive case of cancer. The funeral director, quiet and circumspect as his profession necessitates, presided over a confusing situation. It turned out that "Thomas Mills" was a pseudonym. The women at the funeral home were the man's current wife and ex-wife; each had married him under his given name: David Lucius McCain.
He had adopted his assumed name for two reasons. McCain was known as one of the most corrupt State Supreme Court justices in Florida's history and was eager to outrun his reputation. But he was also literally on the run from federal and state authorities, who had been after him for years for his involvement in an off-the-rails drug smuggling scheme.
McCain's fall from grace came at a time in American history heavy with the pong of political corruption, the same era as President Nixon's resignation for his role in the Watergate affair. The widespread disillusionment with politicians was particularly pronounced in McCain's home state. Numerous state officials faced charges in the mid-1970s, but the ethical erosion was most acute in Florida's highest court. Not only did McCain come under threat of impeachment but five of the seven other justices were also in serious trouble — all at the same time. Drinking in the chambers was rampant, and things got so bad that one justice was required to take a test to prove his own sanity.
The theatrical level of corruption was eye-opening even by today's "Florida man" standards. Productivity slowed, high-level officials were put on blast, and voters and legislators from both sides of the aisle were eager to make an example of judges gone wild. McCain found himself caught up in this whirlwind, a ringleader whose deceit engendered scandal and distrust, creating a circus-like atmosphere that feels more than a bit reminiscent of today's national political scene.
"There had been an odor emanating from the Florida Supreme Court for years," recalls longtime Florida newspaperman Martin Dyckman, who played a significant role in bringing the corruption to light.
Many observers felt that the problems stemmed from the way justices were installed in office. At the time, Florida Supreme Court justices were elected by voters and campaigned as Democrats or Republicans, which left the theoretically impartial judiciary potentially in the pocket of the donors backing their campaigns. Legislators had been trying to change this system since at least the 1940s, but it wasn't until the leak of a questionable memo that reform was prodded into being.
In August 1973, The Tampa Tribune ran a story describing a memorandum from the Florida Department of Law Enforcement that discussed how several State Supreme Court justices had accepted bribes regarding their rulings on horse and dog racing. The memorandum was not attributed to any specific person or verified by any on-the-record sources, but Dyckman's editor at the St. Petersburg Times asked him to dig deeper into the rumors of misconduct on the court. More tips and sources led to increasingly revelatory newspaper articles, and the state's Judicial Qualifications Commission (JQC) began looking into the justices who were said to be up to no good.
The JQC is made up of 15 members who investigate the alleged improprieties of Florida's judges, from local justices all the way up to the State Supreme Court. The members — six judges from all levels of Florida's court system, plus four Florida Bar members and five nonlawyer civilians — can recommend everything from censure to removal from the bench, which would be enacted by the State Supreme Court. When it came to disciplining a member of the State Supreme Court itself, following a JQC investigation, the Florida House of Representatives could open impeachment proceedings, with a trial taking place before the Florida Senate.
After the newspaper articles broke open the myriad bribery allegations lobbed at the Florida Supreme Court justices, the JQC was suddenly very busy indeed.
First in the JQC's crosshairs was Chief Justice Vassar B. Carlton, who had been filmed at a high-roller dice table in Las Vegas. The trip had allegedly been arranged and paid for by the operators of a dog-racing track whose case was possibly going to be heard by his court, suggesting that Carlton was open to influence. The investigation was supposed to be secret, but when Carlton, who had been elected as a Democrat, got wind of what was going on, he resigned.
The JQC was also looking at Justice James C. Adkins. A jowly middle-aged man with thick-rimmed black glasses, Adkins was "called, at various times, a redneck, drunk, and legal genius," according to the Miami Herald. Justice Adkins, also elected as a Democrat, proudly displayed a plastic marijuana plant in his office, a thank-you from pot smokers for his opinion that the government had no business regulating private smoking practices. Legality of substances aside, Adkins had a serious problem with alcohol that led to the downfall of his marriage at the time, his fifth overall, and also led to the JQC ordering him to stop drinking or be removed from the bench. Adkins had to sign an undated letter of resignation that would be given to the governor in the event that he drank again.
Then things really began to heat up.
David McCain (right) is sworn in as a justice of the Supreme Court by Justices Richard Ervin (left) and Alto Adams (middle). Photos courtesy of the State Archives of Florida, Florida Memory.
The JQC turned to Justice McCain, who was 43 at the time, and his colleagues, fellow justices Hal P. Dekle, 56, and Joseph Boyd, 57. All were implicated in different forms of influence peddling, from showing favoritism to certain law firms to the outright taking of bribes. McCain, a Republican, was the most obvious target for an investigation, as he had raised ethical eyebrows long before his appointment to the State Supreme Court.
Born in Sebastian, Florida, in 1931, McCain was a friendly man with a quick wit and obvious intelligence. His classmates recalled him as the type of person who was clearly going somewhere, and after numerous high school and college accolades, the first step in his sure-to-be-impressive career was admittance to the Florida Bar in 1955. McCain, an athletic, handsome man who wore his hair parted and swept back in the style of the day, was known for his intense dedication to his profession, staying late in the office and always bringing home a bulging satchel full of legal briefs.
McCain had friends in high places and was fast-tracked to a judgeship on the Fourth District Court of Appeals by Claude R. Kirk Jr., the governor at the time. There, McCain's injudiciousness was already a semi-open secret. He was said to have sought favorable rulings for defendants crucial to his reelection, and to have taken money from union officials and the lawyer of notorious gangster Meyer Lansky. He was also said to have solicited campaign contributions from defendants whose cases he presided over, including the heiresses to John Deere and Firestone tires — the former had shot her husband and the latter was in the midst of suing a newspaper for publicizing the details of her divorce. McCain seemed to be flaunting his peccadillos when he paid a nearly $10,000 mortgage with $10 and $20 bills, which he said was a cash gift from his father-in-law.
Investiture of David McCain to the Supreme Court, accompanied by his wife Helen Champion McCain (right) and Justice Alto Adams (left), 1970.
Nevertheless, when it was time to replace a Florida Supreme Court justice who died suddenly in 1970, Governor Kirk recalled McCain's hard work on his reelection campaign and appointed him to fill the position. The Florida Bar association warned that McCain wasn't qualified due to his "legal improprieties" and "suspected criminal activities," but McCain completed the interim term and was reelected by voters in 1972. A reporter for the Orlando Sentinel wrote, somewhat enigmatically, that McCain "was not a man who would arm wrestle you for a beer, but he could finesse the eight ball in the corner pocket for a double scotch on the rocks every time."
But it wasn't long before the issues from earlier in McCain's career again bubbled to the surface, compounding allegations of corruption and lower court decision-fixing while on the State Supreme Court. He too had ongoing problems with alcohol — he was said to be drunk in the chambers with regularity, sometimes as early as 9 a.m. — and the JQC opened its investigation in early 1975. The breadth of the charges meant impeachment loomed large.
At the same time that the JQC was launching an investigation into McCain, his colleagues Justice Dekle and Justice Boyd, both old-school Southern Democrats, found themselves caught up in a dicey situation stemming from their questionable interactions with a lawyer named Edwin Mason.
Justice Boyd was a colorful character who grew up a "penniless hillbilly student who slept in haunted houses [and] fought bulldogs," according to his Florida Bar obituary. He found success as a real estate lawyer and was elected to the Florida Supreme Court in 1968 despite little practical experience on the bench. "That is just not true — I was a judge in the Miss Opa-Locka beauty contest," Boyd later told the Miami Herald, referring to a small city north of Miami.
Investiture of Joseph Boyd to the Supreme Court, accompanied by his wife Ann Boyd (left), and Justice Campbell Thornal (right), 1969.
Boyd was golfing buddies with Mason, who at the time was involved in a large lawsuit on behalf of a utility company, which was being heard by the State Supreme Court. On the phone with Mason one day, Boyd disclosed that he and his fellow judges were likely to rule in favor of the utility company, a major decision that would have added the costs of new income tax regulations onto customers' monthly bills. Mason offered to draft an opinion based on this ruling, ostensibly to save Boyd some time, since the court was going to rule that way anyway. Mason's people drafted the memo, which he dropped off with Justice Boyd after going to his house to get some vegetables from the justice's garden, according to Dyckman's book A Most Disorderly Court: Scandal and Reform in the Florida Judiciary.
A little while later, realizing the position he'd put himself in, Boyd tore the memo into "seventeen equal parts," flushed them down the toilet, and went on vacation to Europe, wrote Dyckman. But the problem didn't go entirely down the tubes, as Mason had also given a copy of the memo to Justice Dekle. McCain had been looped in on a communiqué about the memo as well, making things look even fishier. The judges' own staff turned them in for improper behavior and leaked the information to the press.
McCain was incensed that the court's secrecy had been breached. As former Florida Supreme Court colleague B.K. Roberts later told the court, "All of McCain's Irish temper came out and he exploded and he explained [that] he wasn't going to have anybody burglarizing his office." The clerks' eyes went wide when McCain threatened terrible violence to anyone found to be a leak. No clerk was ever harmed, and thanks in part to Dyckman's reporting on these shenanigans, the JQC opened investigations into Dekle and Boyd.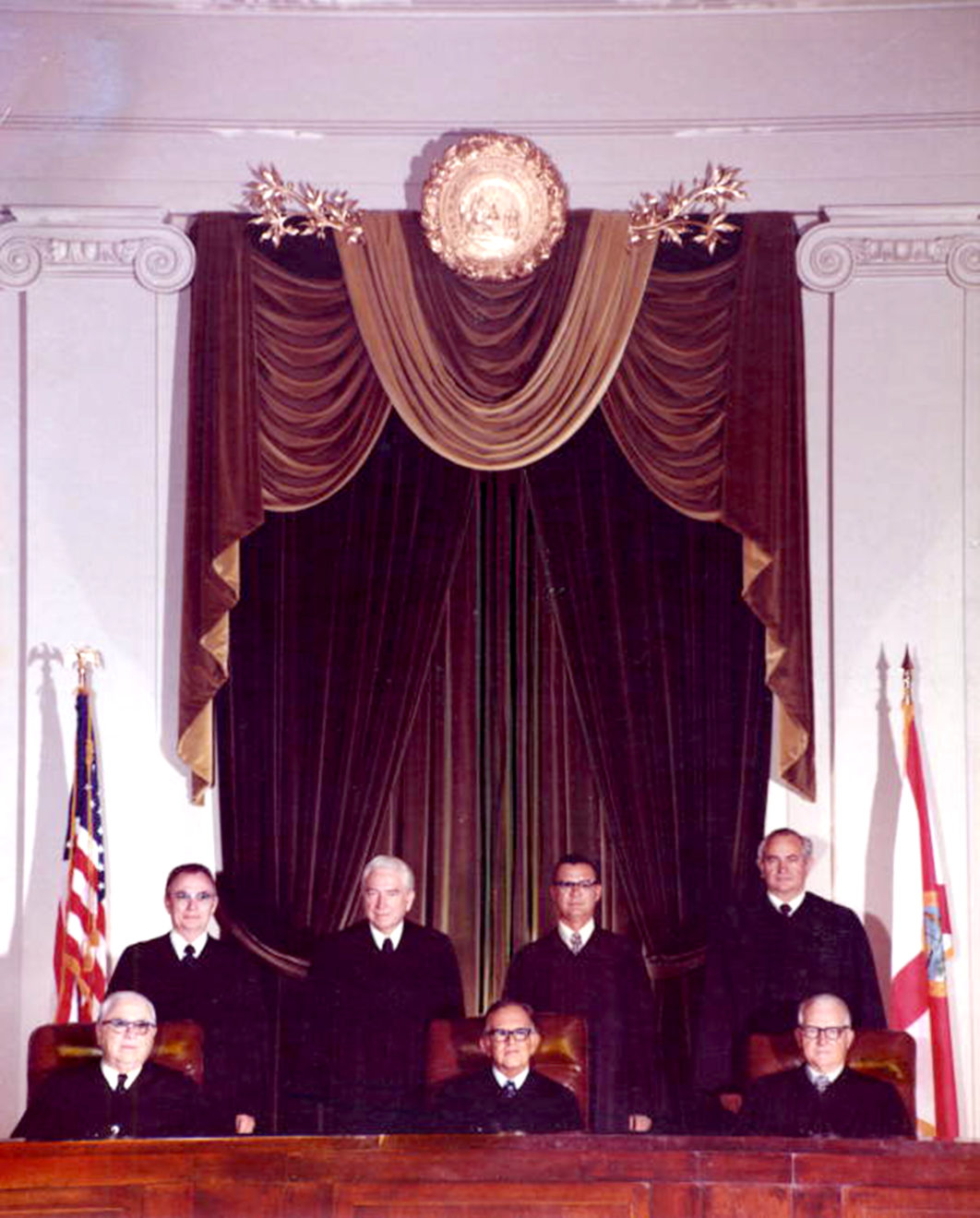 A group portrait of the Supreme Court Justices in Tallahassee, Florida, 1975. Standing (L-R): Hal P. Dekle, Joseph Boyd, David McCain, Ben Overton. Seated: B.K. Roberts, James Adkins, Richard Ervin.
The JQC needed to determine whether the acquisition of the Mason memo was corruption or an honest mistake, but they also had to consider what would happen if the court had to replace several of its justices all at the same time. They felt compelled to act quickly, in part because the headlines about corrupt officials had become so frequent, and because they were extending to Florida's other branches of government as well. Among several cabinet officials facing allegations at the time were Floyd Christian, Florida's education commissioner, who resigned before he could be impeached on charges of bribery, perjury and conspiracy, and insurance commissioner Thomas O'Malley, who resigned before he was tried by the State Senate for accepting unlawful compensation.
An example had to be made. The hammer dropped on justices Dekle and Boyd first.
Dekle seemed genuinely put out by the suggestion that he had deliberately done something wrong. He argued that his "lack of bad faith and moral turpitude in the matter should excuse him from removal from the bench," and that justices were "bombarded" with memos and briefs and articles on an hourly basis. It is "entirely possible extraneous and improper materials can reach a judge's desk without him being acutely conscious of them," he said.
Boyd also denied any wrongdoing, and the JQC used remarkably sympathetic language in their assessment of him, noting the various family and professional crises he was going through at the time and even stating that Mason had taken advantage of Boyd, who was a "friendly affable fellow."
Nevertheless, in February 1975, the JQC found that the judges were guilty of "obtuseness and raw ineptitude in the matter which cannot be condoned or go uncondemned." Accordingly, the JQC recommended that both justices be stripped of their titles and kicked off the court.
A State Supreme Court panel was convened to hear an appeal of the decision, with circuit judges sitting in for Dekle and Boyd. The panel decided that the two men shouldn't lose their judgeships, because no "corrupt motive" was present. The reaction to this decision was explosive, as the panel members were seen as being yet more good old boys protecting their own.
Legislators even ignored the panel's recommendation that the judges be kicked off the court, and Democratic Florida House Speaker Donald Tucker furiously opened impeachment proceedings against Boyd and Dekle in April 1975.
Dekle maintained his innocence, but he also realized that impeachment proceedings would likely bring to light the results of an earlier, secret JQC investigation into his lobbying of a lower court judge, which had found him guilty but hadn't amounted to any tangible punishment because the JQC couldn't agree on what would be appropriate. And so, citing health and financial concerns brought on by the ordeal, he resigned at the end of April 1975, bringing an end to the motion to impeach but also to his career on the bench.
A newspaper clip announcing Justice Dekle's resignation, 1975. Photo from The Evening Independent via Google News Archive.
The Florida House of Representatives seemed to agree with the JQC's assessment of Boyd and opted not to impeach him. Boyd, who had a meltdown under questioning, apparently came from a political environment where dubious political dealings were so rampant that he genuinely may not have realized that ex parte communication with a lawyer was wrong. "He wasn't a bad guy; he was just hopelessly miscast as a Supreme Court justice," Dyckman says.
Instead, the JQC came up with a way to oust Boyd without the trouble of impeachment. Boyd was to be given a public reprimand and could stay on as justice, with one caveat — he had to take a psychiatric test proving he was sane. Given Boyd's behavior so far, the court apparently assumed that he would be found mentally unfit for the bench, or at the very least, not competent enough to serve. He could then be handily removed, as the JQC also had the power to retire justices based on age and doubtful competency. But Boyd surprised the commission and passed the test with flying colors; the doctor even noted in his report that Boyd was a highly moral man. He stayed on as judge, and even turned the potentially embarrassing experience into a positive. He campaigned on the fact that he was "the only judge in Florida certified sane" when he ran for reelection, and voters kept him on the bench by a wide margin.
Meanwhile, activity on the court had slowed to a crawl. Almost a thousand cases waiting to be heard by the court had been significantly delayed, including numerous death sentence appeals. The United States Supreme Court had recently reinstated the death penalty, and Florida had fast-tracked its death penalty statutes into being, resulting in a confusing and incomplete set of laws governing the ultimate punishment. Attorneys on both sides of the issue scrambled to set things right, leaving the fate of hundreds of men's lives in the air as the court dealt with its internal concerns.
To make things worse, the Florida Supreme Court voted 4-3 to delay a grand jury investigation into a State Treasury official until after the election season. The decision was met with widespread ridicule and disbelief, because a ruling on the matter had the potential to shield judges from investigation into anything they did prior to 1973. The court withdrew its decision, but the move prompted voters to pass a constitutional amendment stating that anything a judge ever did, even before he became a judge, could be used to demonstrate his unfitness and remove him from the bench.
Fed up with the mess, the JQC had no problem taking McCain to task for the deficiencies of the court, which in turn led to the Florida House of Representatives opening impeachment proceedings. "We had more than enough evidence to show the man to be a thorough rascal," a member of the Florida House's impeachment committee said as it moved against McCain. McCain boycotted the preliminary sessions of his impeachment hearings and ultimately resigned the day before full proceedings were scheduled to begin. He was stripped of his title and prohibited from practicing law anywhere in the state.
Portrait of Justice David McCain, Tallahassee, Florida, 1970.
Though McCain had forestalled investigation by resigning, his problems only compounded from there. He was arrested for drunk driving in 1977, then, in 1978, convicted of aggravated assault for using a gun to threaten a group of teenagers for being too loud outside of his apartment. Moreover, the Florida Bar pushed for a lifetime ban, a harsher punishment than what the JQC had recommended.
McCain worked as a law clerk as he tried to fight the disbarment, and he secured letters of recommendation from attorneys with whom he had previously worked. But his past weighed too heavily to be ignored. "The roster of attorneys [was] cleansed of a miscreant," the court said in 1978 as it disbarred McCain for life. He was the first former judge in Florida's history to be prohibited from practicing law. Many felt it was a loss for the state, as, according to McCain's mentor and former Florida Supreme Court Justice Alto Adams, McCain was "one of the best qualified men, legally, to ever go on the court."
McCain appealed his disbarment to the Florida Supreme Court itself, where his erstwhile colleague Joe Boyd was one of the people tasked with hearing the appeal. Some of the charges against McCain were dropped due to a lack of evidence, but the court upheld others as "so gross in nature [that] it bears upon his current fitness to practice law." His livelihood stripped away, McCain tried to figure out what to do next. Unsurprisingly, he had some colorful ideas.
On September 25, 1982, authorities from numerous jurisdictions descended upon McCain's quiet home in Fort Pierce, a small middle-class city in southeastern Florida. McCain was led away in slacks and an untucked guayabera shirt by a cadre of armed police. He and seven co-conspirators had been arrested for trying to smuggle no less than 15 tons of marijuana into the United States, and McCain was facing extradition to a rural Louisiana parish where the plan had allegedly originated.
According to the indictment, McCain and 70-year-old Charles Robertson, a professional gambler, had outfitted a shrimp boat and hired a captain to bring weed back from Colombia. The boat would then sail to Florida and Louisiana, where the cargo was off-loaded under the cover of night. McCain, who used the alias "Joe Rico" in the plot, was facing up to 24 years behind bars for orchestrating and funding the scheme. His lawyer, another former Florida judge who had resigned after allegedly soliciting sex from the wife of a man he'd sentenced to prison, helped McCain plead not guilty and post the $200,000 bond.
"This is very aggravating, what we're going through right now, to say the least," McCain told the Miami Herald at the time. "Very perplexing, very disturbing."
More details emerged about the ill-fated operation as McCain's alleged co-conspirators appeared in court.
McCain and Robertson allegedly masterminded the plan, which they'd begun plotting sometime in 1980. The first smuggling attempt, in spring 1981, had failed when the U.S. Coast Guard suddenly appeared and arrested the crew of one of the boats taking on the contraband. The group made a successful purchase in Colombia a few months later, but they were waylaid by an eight-man squadron of Colombian soldiers (or at least men disguised as such). McCain's men and cargo were held hostage and told they would all be killed unless they paid $500,000. One of the men managed to get his father to raise $150,000, which was enough to get them set free, though their cargo was confiscated and the boat was later captured in an unrelated sting.
U.S. Drug Enforcement Administration agents in Colombia learned of the plan, which was traced back to McCain through wiretaps and confessions. He was rearrested a month after the initial arrest and charged with federal crimes. McCain chain-smoked and paced relentlessly throughout his house between hearings. His family couldn't make heads or tails of how he'd gotten into this predicament.
"He was good at changing diapers. He could put together a carpool. He knew how to start up a law firm. He could write legal opinions. But a smuggling operation? I will never be able to figure that out," McCain's stepdaughter told the Orlando Sentinel.
McCain's extradition to Louisiana was granted, and he expressed deep concern about how a former judge would fare in prison. On January 20, 1983, when it came time to fly to Louisiana and face the music, he simply never showed up to meet his lawyers for the ride to the airport. A nationwide manhunt ensued.
Since McCain spoke Spanish, there was speculation that he might have gone to Central America or that he was in Miami under the protection of a Cuban lawyer. Others were worried he'd been abducted by someone he'd crossed while he was a judge. One friend asserted that he'd met with McCain a few times while McCain was working under an alias as a clerk for a law firm in South Carolina. The friend said he was sure McCain had something worked out with the feds, as he seemed unconcerned about walking around in the open. But none of these leads went anywhere, and McCain seemed to have totally disappeared.
Then, in mid-November 1986, police received an anonymous tip that the former justice had turned up.
"The good news is they found David McCain," one agent told another. "The bad news is he's dead."
Fast-forward to the body of the man known as Thomas Mills in the Jacksonville funeral home. Fingerprint analysis confirmed that Mills was in fact McCain, though this revelation was surprising only to law enforcement. McCain's son had been helping him live quietly in an apartment in Jacksonville under the assumed name. When his heavy smoking habit caught up with him, he developed cancer that spread aggressively, and his daughters took turns caring for him and taking him to the doctor, where they paid only in cash. McCain was reportedly planning to turn himself in (and mount his comeback as a lawyer) when he died at age 55. The date was November 11, 1986, and a letter discussing his surrender and inquiring about leniency was said to have arrived at a U.S. attorney's office in Miami just days later.
McCain was buried in a small cemetery in Sebastian, his hometown, not long after. His grave is indicated by only a small plaque, as if to offer a semblance of anonymity after a life of infamy. It has never been revealed where he was hiding before he returned to Jacksonville, and, perhaps figuring that the family had been through enough, the authorities decided not to press charges against them for harboring a fugitive.
McCain was the last Florida Supreme Court justice elected by the people, as the scandals of the 1970s brought about a sweeping change to the way Florida judges take office.
Voters amended the state constitution in 1976 to adopt a "merit retention" system for State Supreme Court justices. Instead of voting a judge into office (with all the unneutral trappings of a campaign), a judicial nominating commission would provide a list of qualified judges to the governor, who would select a judge from the list. Voters would then decide whether to keep a judge in office for further terms. Today, 26 nominating commissions have been established as needed to oversee appointments to the Florida Supreme Court, as well as the district, circuit and appeals courts (though trial judges are still elected). As it happened, the first full impeachment of a sitting judge finally happened not long after the creation of the nominating commission. A circuit court judge was removed from office in 1978 for selling marijuana seized by the local sheriff's department.
The public was optimistic about the justices who cycled in as the others resigned, an incoming class that included Florida's first African-American State Supreme Court justice, Joseph Hatchett. As Neil Skene wrote in The Supreme Court of Florida: A Journey Toward Justice, the justices "often disagreed with each other on cases or policy," but they "shared a powerful commitment to personal and judicial integrity" and were a welcome replacement to "populists and so-called good ol' boys who were beholden to utilities, agribusiness, and corporate interests and who secured their political standing with pork-barrel spending and appeals to racial prejudice."
Most of the other justices were able to recover from the scandal. Justice Hal Dekle went on to have a respectable career as a professor at Oral Roberts University, and Justice Joe Boyd continued to serve on the Florida Supreme Court until 1987 (including a two-year stint as chief justice, from 1984 to 1986). After retiring, he opened a law practice with his son. Boyd died in 2007, at age 90, with his son and grandson continuing to work in the family firm. Carlton, the gambler who had been seen at a dice table in Vegas, returned to private practice and died at age 92 in 2005. Justice Adkins actually did stop drinking and stayed on the court until 1986, when he reached the mandatory retirement age of 70. "They used to call me an old drunk," he once said. "But I've come back to win a lot of awards." McCain's name, however, became shorthand for political corruption, and to this day it's a buzzword used to evoke the "bad old days" of the Florida Supreme Court.
The scandals of the 1970s were characterized by a marked interest in rooting out corruption by both political parties. When Dyckman polled Florida legislators, only three representatives said they weren't going to vote to impeach McCain. That the Watergate affair came into full bloom during this time didn't do the reputations of the Florida judges any favors.
"In Florida, there were significant members of both parties who were outraged that a lawyer with connections could have inside influence with a Supreme Court justice," Dyckman says. "They were outraged that an education commissioner would take kickbacks from a supplier who was an old friend of his. They were outraged that the state treasurer and insurance commissioner would have a kickback scheme."
But the reformed system eventually became as fraught as the one that preceded it. The U.S. Supreme Court overturned limits on campaign spending in Buckley v. Valeo in 1976 by arguing that campaign contributions were free speech. Florida followed suit, loosening its own contribution limits and imposing term limits on legislators. While the two-term limit was intended to keep politicians from amassing too much power, Dyckman says, in effect it empowered lobbyists, who weren't bound by any limits and found ready colleagues in the legislators eager to get things done before their two terms were up.
Today, lawyers and legal firms routinely contribute more cash to Florida judges' nonpartisan reelection campaigns than the voting public does, and wealthy donors are able to wield a startling amount of influence, such as when the Koch brothers funded a massive campaign to oust Florida judges allegedly sympathetic to Obamacare in 2012.
In 2001, the Florida legislature granted the governor the power to nominate five of the nine civilian members of the State Supreme Court's judicial nominating commission and choose the other four from a list prepared by the Florida Bar. "The governor could reject names endlessly until he found someone he liked," Dyckman says. In other words, a single person, elected in a highly political race and whose decisions are final, has almost complete control over who sits on the bench.
And it's not like judges were necessarily scared straight anyway — the JQC receives over 700 complaints a year, and over 175 JQC investigations have led to charges against judges since the scandals of the 1970s. Judges have been charged with offenses including tardiness, excessive arrogance, driving under the influence, having an improper relationship with a bailiff, sentencing without an attorney present, brandishing a loaded gun in court, proclaiming religious beliefs in court, soliciting lawyers for free lunches, and using the judicial office to promote a personal business. Punishments have ranged from public reprimands to thousands of dollars in fines to removal from the bench. (And this is only in Florida. Other State Supreme Courts have their share of drama as well, including five justices being impeached simultaneously in West Virginia in 2018.)
Old-school scandals may have boasted suitcases full of cash, while today's scandals are complicated by the obsessive insistence on deep state conspiracies and "fake news," but both are only window-dressing to the banal certainty that power will corrupt. Whether it's State Supreme Court justices or the U.S. President, 40 years ago or today, we're consistently reminded that the people we choose to make our most important decisions are just as flawed as the rest of us — and sometimes much more so.
Dylan Taylor-Lehman is a nonfiction writer from the foothills of Appalachia who has lived and reported in numerous biomes. In addition to his work for Narratively, he has written for a variety of publications about landfill ecosystems, strange crimes, modern Kafkology, and the history of the Spanish tortilla. His first book, Dance of the Trustees, chronicles the astonishing concerns of a small Ohio township, and his history of the Principality of Sealand, the world's foremost micronation, will be published by Diversion Books in June 2020.