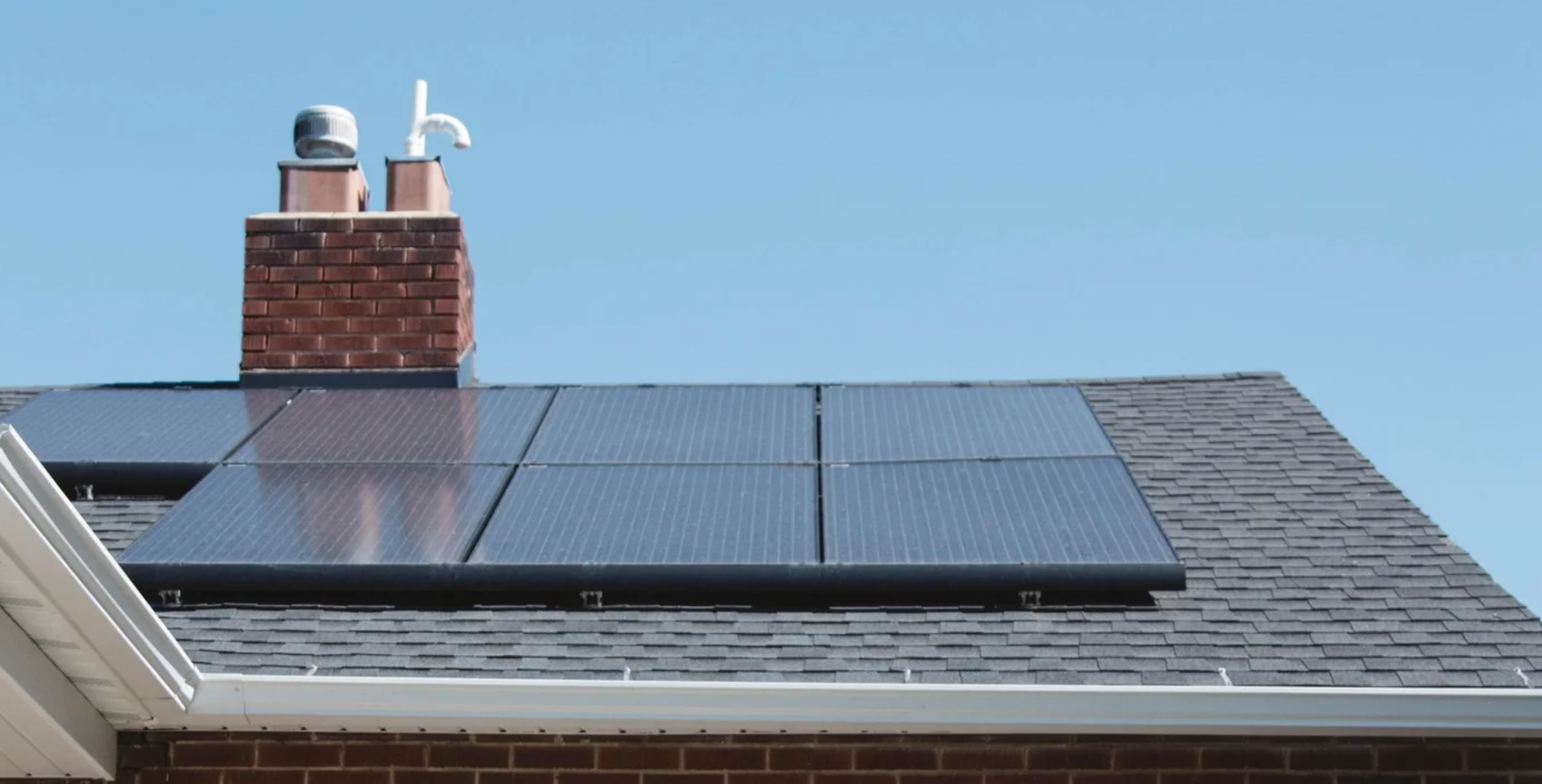 Behold: the power of the sun. Vivint Solar/Unsplash
If you live in an area with abundant sunlight—hello, fellow southern Californians—you've probably thought about installing solar panels on your roof to save on your electric bill. But with so much information, it can be hard to know where to start.
Look no further—start here
Between the different types of panels, financing, inverters, and other jargon, researching solar energy can feel overwhelming at first. That's why I recommend starting at a solar quote comparison site like EnergySage, Solar-Estimate, or SolarReviews (the latter two are run by the same people).
Both EnergySage and Solar-Estimate act as educational resources and comparison shopping tools to help you field bids. I've been using EnergySage, which is chock-full of articles explaining the technology involved. You can also watch videos, look at their buyer's guide, or start getting quotes. Their Solar 101 series of articles will help you understand the basics, and when you're done, scroll through the site's "Learn About Solar" sidebar to read even more articles that'll give you a feel for the process.
To understand what your home requires, though, you'll need to look up how much electricity you use. If your bill tells you the average amount of electricity you use each month, make a note of that, or calculate a quick and dirty average yourself. The more information you have on your usage, the more accurate an estimate you can get from installers.
Your energy usage will determine how many panels you'll need on your roof. Too few, and you'll still have to pay the electric company for whatever extra power you use. Too many, and you'll waste money on panels you don't need—though the electric company will give you credits for any energy you don't use, should you one day need electricity from the grid.
Keep in mind your future use, too—EnergySage CEO Vikram Aggarwal says that if you plan on getting an electric car, for example, you may want to add a few more panels than you currently need. My neighbor did exactly that, and he's glad he doesn't have to rely on the grid for the increased energy usage his new car requires.
From there, you can call local installers directly or plug your information into EnergySage to streamline the process. "You tell us about your home, your bill, and we ask you if you have any preferences regarding equipment, quality, or type of financing. Based on that information, you'll get quotes from half a dozen pre-screened solar companies," explains Aggarwal.
Since these quotes contain a number of figures, including a "price per watt," it's a bit easier to compare each installer apples-to-apples—rather than just comparing the total cost of each installation that you might get from individual quotes. And, unlike some other solar comparison tools, you won't have to share your phone number on EnergySage, which is a big plus if you don't want unsolicited phone calls. (Both EnergySage and Solar-Estimate make money from installers, who pay a fee to list on the site.)
---
How to Choose an Installer
As with any big project, don't just pick the first cheap quote that comes along. "Consumers should get three to five quotes from a mix of different kinds of solar companies to truly evaluate their options," says Aggarwal. That way, you'll get a feel for the average cost—pay special attention to the price per watt, which is your main point of price comparison—though it isn't the only factor you should consider when selecting an installer.
When you find some prices you like, reach out to the companies and set up a visit to your home where they can create a more detailed plan. You may find that a slightly more expensive installer makes a better pitch for the project. My brother-in-law, for example, liked that his chosen company had a keen attention to detail and helped explain the process to him. Other companies he looked at were cheaper, but didn't take as much care in helping him decide between products, or determining the most aesthetic way to run the conduit to the electrical panel. So don't be afraid to get a few on-site visits under your belt before committing. (And make sure a company is licensed, insured, and certified by the North American Board of Certified Energy Practitioners—you can search their database of companies here.)
Different installers may carry or recommend different panels and inverters, too. (Inverters convert the direct current from the panels to alternating current for your home.) More-efficient panels are naturally more expensive, but may be necessary if you can't fit enough lower-efficiency panels on your roof to cover your home's electricity usage. If you have a large roof or lower usage, you can go with less-expensive panels. You can also choose between more-affordable inverters mounted to the side of your house and pricier, more-efficient ones that sit on your roof. A good installer will walk you through all your options, so you can make an informed decision.
The installer should also draw up the plans, get the permits, and install the actual equipment. So while the installation may be fairly quick, the start-to-finish process may take a few weeks to a few months, depending on your situation. Your installer should also tell you if you need to upgrade your electrical panel, which may be required for certain homes.
---
Payment and Financing
Paying for your system can feel like a minefield all on its own. There are a ton of options out there, but most of them boil down to two main flavors: you can own your system, or you can rent it from the solar company.
Owning the system
Buying everything outright is ideal, since you reap the biggest financial benefits. You can either pay cash, which requires a high upfront cost but nets you the largest long-term savings, or you can take out a loan, which costs a little more in the long run but doesn't require as much immediate money. Considering a typical solar power system can cost upwards of $10,000, a loan may be attractive. Plus, with a loan, as long as your monthly payment is lower than your monthly electric bill, you start saving money on day one. Purchasing the system upfront means you won't break even for a few years (though again, you spend less in the long run).
That loan can come from many places, too. You can go to your bank and get it rolled into your mortgage, open a new line of credit, or get a loan through the installer, Aggarwal tells me. Going through your bank may be cheaper, he notes, but may also require more paperwork than choosing the loan your installer offers. It depends on how much legwork you want to do.
Renting the system
Signing a lease, a power purchase agreement, or renting a system through other means is also common, but generally not as financially advantageous. You'll pay less money, but you won't get as many of the benefits. "Most of the savings are going to the leasing company," says Aggarwal. "You may only get 20 to 30 percent." It can also be a bit complex if you ever want to sell your home—the homebuyer also has to qualify for the solar lease and agree to take over the contract. If they don't, you could lose that sale, be forced to buy out the solar panels, or deal with the headache some other way. You won't have to worry about maintenance or repairs, though, like you would with a system you own. If you can't afford to buy or finance your panels, leasing may be an option, but make sure you're aware of the downsides before proceeding.
Crunch the numbers
You may be curious to know how long it takes before the solar panels pay for themselves (the moment your savings overtake the initial cost of the system), particularly if you're buying them outright. This depends on the price of electricity in your area, the incentives available in your region, and how much sunlight you typically get, Aggarwal says. In California, where I live, electricity is 56 percent more expensive than the national average, and there aren't any state incentives. But we get so much sunlight that Aggarwal tells me California's average payback period is seven to eight years. Most solar markets, he says, typically see payback in less than 10 years.
That's pretty good, because most systems are designed to last significantly longer than that. Most solar equipment is warrantied for about 25 years, but can last even longer before you need to replace them, Aggarwal says. The panels do, however, lose efficiency over time, so they may not produce as much energy once you get that far down the road. In addition, the installer's labor warranty will likely be shorter, so you may have to do a little legwork if you encounter trouble between years 15 and 25, for example.
---
Finding Tax Credits and Rebates
If you choose to buy your solar system, you may be eligible for a number of financial incentives. It can be hard to keep track of what's available, though, especially considering the federal government has started to phase out tax credits for solar. For 2020, the current federal tax credit stands at 26 percent of the cost of your system. This isn't a rebate, it's a tax credit, which means it's deducted from the taxes you owe next year. If you don't owe any taxes, you won't get a check in the mail. The credit goes down to 22 percent in 2021, then phases out for residential customers in 2022.
There are also state or local incentives, but these can vary by location. Aggarwal recommends checking out the Database of State Incentives for Renewables & Efficiency, or DSIRE, to see what's available in your area. Your accountant may also be able to help you make sense of all this for your specific tax situation—so give them a call as you're running the numbers to see what your final cost and savings will be.