Photos courtesy of Standard Studio.
What was your dorm room like? If it's anything like the majority of American public universities, likely a cinder block-walled, linoleum-floored menace to your design dreams; potentially complete with a communal bathroom so ancient it looked like the Chamber of Secrets. And though you may try with chic decor, it's hard to mask terrible bones and an inefficient layout.
Which is why any prospective university students may want to consider a study abroad in Rotterdam. Located in the Netherlands, the city is home to a brand new student housing complex designed by Amsterdam-based firm Standard Studio—218 modern and style-focused unites, each around 200 square feet.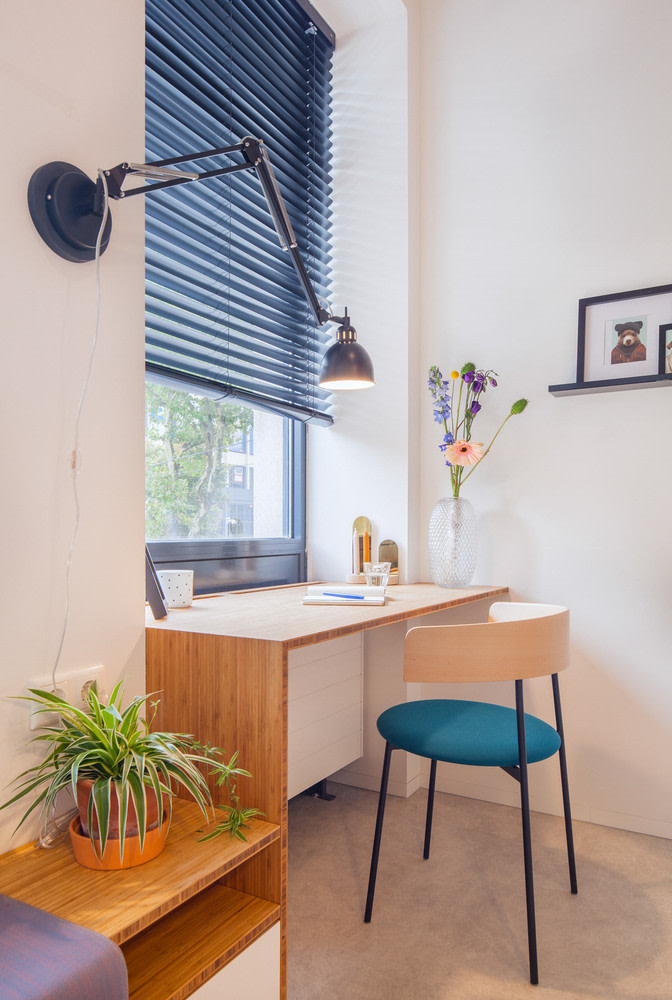 Partner architect Marc Brummelhuis cites the tiny home movement as the inspiration for the project, dubbed "Student Hotel." Specifically, one branch of the tiny home movement: "We really looked into caravans," he tells Domino. "What [we learned] from that is that every space where you can stand should also [be used for] another feature, like a sink. But mostly the design is a result of a good analysis of the space and a smart zoning puzzle; we think the Student Hotel really showed that the tiny house movement also can have a business model."
The team then tailored its approach to residential projects to be more suited for small spaces. Focusing on durable materials built for wear, in neutral wooden tones for maximum versatility, each space is a solid backdrop to be personalized with temporary accents however the residents see fit. Natural light and tall ceilings in the main living space (more on that later) trick the eye into thinking each unit is bigger than it actually is.
Another smart small space hack to take note of? "The most unique one is the large sink, which on one hand can be used from a kitchen perspective, and on the other hand, it's the sink for the vanity unit where you can brush your teeth," explains Brummelhuis of this genius idea. "By doing this and adding a suspended chalkboard/mirror, the space still feels spacious."
Aside from taking multifunctional pieces to the extreme with this bathroom-kitchen combination, the units also make use of typically unused ceiling space. Those tall ceilings in the living space are cut by a loft, with just enough space for a suspended double bed. This means that each unit is more like an apartment than your standard dorm room, featuring a bathroom, a bedroom, a kitchen, and a living space all in minimal square feet.
As for how one reaches that suspended double bed, there's a set of stairs that doubles as a cabinet system. No potential is left untapped, but nothing feels like a compromise.
"What we think is great [is] that we made it possible to have a great place without making use of any folding or moving techniques; our experience is that a foldable bed most of the time [stays] open because of the hassle it costs you to stow it away," says Brummelhuis, giving one example of a small space "hack" that usually ends up backfiring.
Between the contemporary, clean lines and ample room for customization, it's safe to say these little apartments are way above the average student accommodation. Here's to hoping Standard Studio shifts its focus stateside for its next college-aimed project.
Elly Leavitt is an Associate Digital Editor at Domino.