Photo courtesy of I Am a Food Blog.
I have eaten hundreds of lunches that practically bored me to tears. Think: quinoa and sweet potato, with the addition of any other given vegetable—perhaps a sautéed pepper or some roasted broccoli. My ingredients were perfectly fine, but for some reason, every lunch fell flat.
The problem, I eventually realized, with many of my meals was that they were dry. More often than not, I opted for a cold lunch, only to find my once-fluffy rice or couscous remained clumped together and my vegetables were hardly inspiring. This bleakness led me to eschew meal prep and instead buy my midday meal. Finally, after getting lunch after lunch at DigInn and delighting in the assorted toppings (like garlicky aioli and herby pesto), I realized what was missing. Dressing wasn't just for salads. I needed to make a sauce.
It's not like I'm dousing any given meal in marinara sauce, though. In addition to making my meal-prep staples—roasted vegetables and a grain—I'll pull out my blender to whip up a versatile tahini sauce or a spicy zhoug. Even hummus, though not a sauce, brightens up most any lunch. Your dip, condiment, or sauce should work hard to make any meal, no matter how simple, feel fancy.
I've found that spicy sauces tend to make even cold lunches more exciting, and a simple lemon-tahini mixture is hard to get tired of. Your tastes, however, will dictate your own meal-prep preferences. Below, you're guaranteed to find the sauce that makes your heart sing—and makes you actually excited to meal prep.
Vegan Barbecue Sauce
Photo courtesy of Simply Quinoa.
A lot of store-bought barbecue sauces tend to be high in sugar, but this homemade version gets its natural sweetness through maple syrup and coconut palm sugar. Don't feel pressured to use it only for meat or traditional barbecue fare: This vegan option is great as a tofu marinade, a dunk for vegetables, or a sauce drizzled over a grain bowl.
Get the recipe on Simply Quinoa.
Zhoug Sauce

Photo courtesy of Cookie and Kate.
If you can't take the heat, then zhoug probably isn't the sauce for you. But if you're a firm believer that a kick of spiciness is the way to go, this Yemeni condiment is a dream. Made with cilantro and jalapeños, it's best drizzled on top of falafel, grain bowls, or even just your favorite roasted veggies.
Get the recipe on Cookie and Kate.
Restaurant-Style Salsa

Photo courtesy of Two Peas and Their Pod.
Yes, it is worth pulling out your blender to whip up a batch of smooth, restaurant-quality salsa. You may feel compelled to eat the entire jar with a bag of chips, but this salsa is equally great when paired with a simple protein (like tofu or chicken), a grain of your choosing, and plenty of vegetables.
Get the recipe on Two Peas and Their Pod.
Smoky Baba Ganouj

Photo courtesy of Bonjon Gourmet.
The additional ingredient of smoked paprika brings this baba ganouj fancier than any store-bought option. If you want it to be a little creamier, you can add a bit of Greek yogurt. Then, consider pairing it with some tabbouleh and chickpeas.
Get the recipe on Bonjon Gourmet.
Avocado Chimichurri Sauce

Photo courtesy of Making Thyme for Health.
If you're looking for a slightly creamier option, turn to avocado for a dairy-free option. Cilantro lends a brightness to this simple sauce, so consider this the ingredient you've been needing to craft the ideal burrito bowl.
Get the recipe on Making Thyme for Health.
Sriracha Hummus

Photo courtesy of Damn Delicious.
When you can make your own hummus in just 10 minutes, there's no excuse to buy it from the store. With sesame oil, cumin, and smoked paprika, this spicy version has a full-bodied flavor that makes lunchtime extra satisfying.
Get the recipe on Damn Delicious.
Spicy Chipotle Tahini Sauce

Photo courtesy of This Savory Vegan.
You can hardly go wrong with a tahini sauce, but chipotles in adobo sauce lend just the right amount of smokiness to this version. Consider this: You can use it not just as a sauce or dip but also a sandwich spread.
Get the recipe on This Savory Vegan.
Romesco Sauce

Photo courtesy of Naturally Ella.
Using a roasted red pepper, you can craft a romesco sauce that might just astound you with its versatility. Hazelnuts and almonds give it a slightly sweet, nutty taste, while cayenne pepper adds just a bit of welcome heat.
Get the recipe on Naturally Ella.
Walnut Avocado Yum Sauce

Photo courtesy of Heartbeet Kitchen.
Here's an unexpected tidbit: Walnuts can actually give sauce a richer, thicker consistency, which is especially welcome when you're using it for dipping assorted vegetables, tortillas, and more. If you're meal-prepping every couple of days (as opposed to one big batch once a week), this recipe is best for you: After all, avocados turn brown after just two to three days.
Get the recipe on Heartbeet Kitchen.
Five-Minute Sunshine Sauce

Photo courtesy of Pinch of Yum.
Just like its name promises, this ultra-simple, garlicky sauce promises to chase away your meal-prep blues. Best of all, it can be completely made using stuff you probably already have in your pantry,but we'd recommend going the extra mile and adding in some fresh herbs, too, before drizzling it atop practically everything.
Get the recipe on Pinch of Yum.
Curried Red Lentil Dip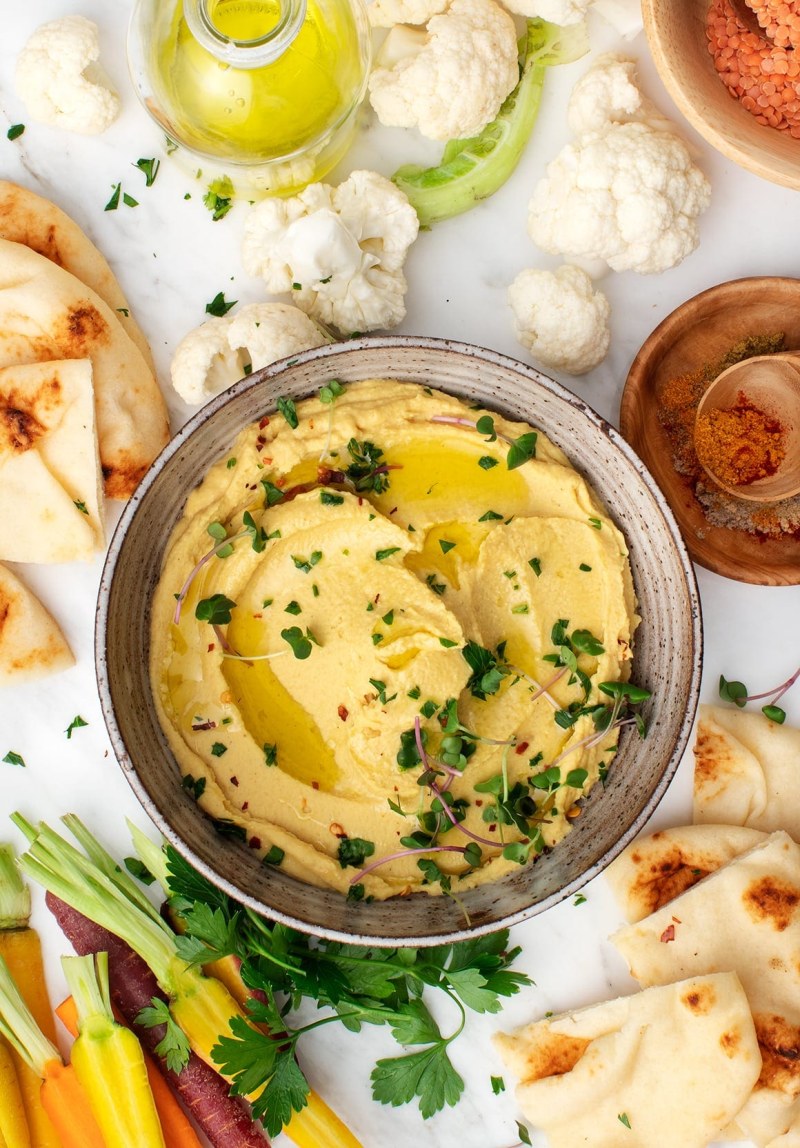 Photo courtesy of Love and Lemons.
If chickpeas aren't your favorite legume, no hard feelings. It's perfectly easy to make an impactful hummus-style dip without them. Here, red lentils pair wonderfully with fragrant spices like coriander, cumin, and cardamom. Use a blender instead of a food processor for an ultra-smooth finish.
Get the recipe on Love and Lemons.
Easy Four-Ingredient Hatch Chile Salsa Verde

Photo courtesy of I Am a Food Blog.
A simple salsa verde is great for more than just taco night. Broiling your chiles gives them a smoky depth—so you only need three other ingredients to complete this taste bud–pleasing sauce.
Get the recipe on I Am a Food Blog
Rebecca Deczynski is the Lifestyle Editor at Domino.