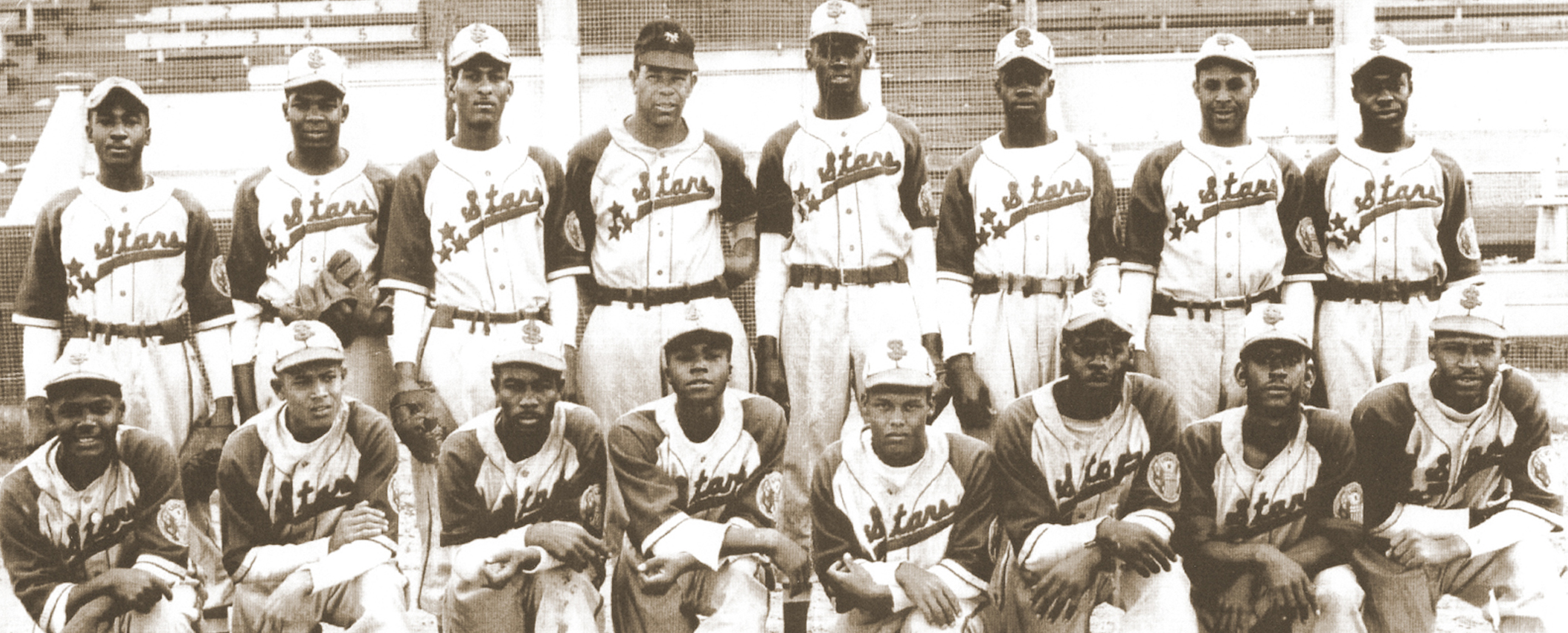 Photo from the Jay-Dell Mah Collection, courtesy of Marvin Ligon.
It's mid-September and a championship is on the line. Through seventeen innings, game five of this best-of-seven series has offered high baseball drama for the shoulder-to-shoulder fans in attendance. On the mound, a jelly-armed Leon Day – the future Hall of Fame pitcher who started the game and is still going – just saw his team, an enviably skilled squadron of black players, take a tenuous 1-0 lead in the top of the inning. Leftfielder Robert Lomax "Butch" Davis scored on a hard single and now Day has his mind set on finishing things. He's already worked out of a bases-loaded crisis in the eighth, then in the fourteenth inning, a sharp throw home from second base, nailing a speeding runner, bailed Day out. After all that, Day doesn't want to let down his manager Willie Wells, who was ejected from the game in the tenth inning for relentlessly arguing a call at first base. Another future Hall-of-Famer, Wells departed the field with a police escort, and only after the chief umpire finally threatened him with forfeiture.
But in the bottom half of the seventeenth inning, Day notches three more outs to secure the championship. After jolly handshakes and hugs on the field, there's a party at the team hotel a few hours later.
This all happened in 1950, three years after Jackie Robinson broke Major League Baseball's color barrier with the Brooklyn Dodgers. That landmark moment gave black ballplayers a chance to join the Majors, but it also meant the inevitable decline of the Negro Leagues in the United States. Founded in 1920, the Negro Leagues were an association of teams owned and managed by blacks. Rosters featured black players, as well as Latinos with skin complexions too dark for Major League team owners to tolerate. Once Robinson was ushered into the Majors, those same owners began plucking the Negro Leagues' best talent for their own teams – though only a select few, top-notch black ballplayers were chosen, so as not to deny work to an excessive number of whites.
"The Negro Leagues were employing a lot of guys," says Bob Kendrick, President of the Negro Leagues Baseball Museum, "but with the integration of our game, a lot of older players lost their jobs."
Black fans followed their stars, attending an increasing number of Major League games. The Negro Leagues toiled, and though the last teams held out until the mid-1960s, many baseball historians and former players consider 1950 – when the Negro National League folded – to be the last year of high-quality play in the league's proud history. However, that last great Negro Leagues season of 1950 did not include slick pitching from All-Star Leon Day or shrewd strategizing out of Willie Wells. Instead, the two celebrated a championship that mid-September evening with the Winnipeg Buffaloes of Manitoba, Canada.
Team photo of the 1950 ManDak League champions, the Winnipeg Buffaloes. Manager Willie Wells is seated to the right of owner Stanley Zeed (first row, third from the left). Leon Day is seated on the far left of the middle row. Photo from Jay-Dell Mah Collection, courtesy of Tazena Kennedy.
"People don't really think about what happened after Jackie Robinson integrated baseball, beyond that the race barrier disappeared and the Negro Leagues started to decline," says Leslie Heaphy, a history professor at Kent State University who has written and edited six books on baseball. "Well, what were all those players doing? They didn't get a chance to play in the Majors, so many of them – way more than people think – went up to Canada."
Most Americans know little about the rich baseball history of Canada. The first-ever recorded baseball game played on North American soil may have actually occurred in the small village of Beachville, Ontario in 1838 – one year before Abner Doubleday purportedly formalized baseball's rules in Cooperstown, New York, and nearly forty years before the first organized indoor ice hockey game took place in Canada. Over the next few decades, amateur and professional baseball leagues popped up around Eastern Canada. (In 1914, a nineteen-year-old Babe Ruth hit his first professional home run while playing a road game in Toronto.)
Meanwhile, the western prairie region of Canada was gradually being settled, spurred on by the Dominion Lands Act, which, similarly to the United States' Homestead Act, provided land to settlers for a small fee if they agreed to develop and improve upon it. U.S. citizens – both black and white – caught wind of the deal and flocked to the region. Jay-Dell Mah, who co-wrote a book with Barry Swanton titled Black Baseball Players in Canada, says, "Tons of baseball leagues started to form, just about everywhere you went, all through the prairies."
Canada's black population was still miniscule, but as Western Canadians became baseball-crazy over the next few decades, African American ballplayers went north during Negro League off-seasons to play in exhibition games and tournaments – a practice called "barnstorming" – usually against all-white local teams. Years before Jackie Robinson joined the Dodgers, Canadian team owners would pay extra to Negro League stars like Hall-of-Famer Satchel Paige, who pitched in Canada several times, to join their teams for high-stakes tournaments.
Mah, who remembers no black families in his hometown when he was growing up in Lloydminster, Saskatchewan, says, "Canadians got used to integrated play pretty quickly."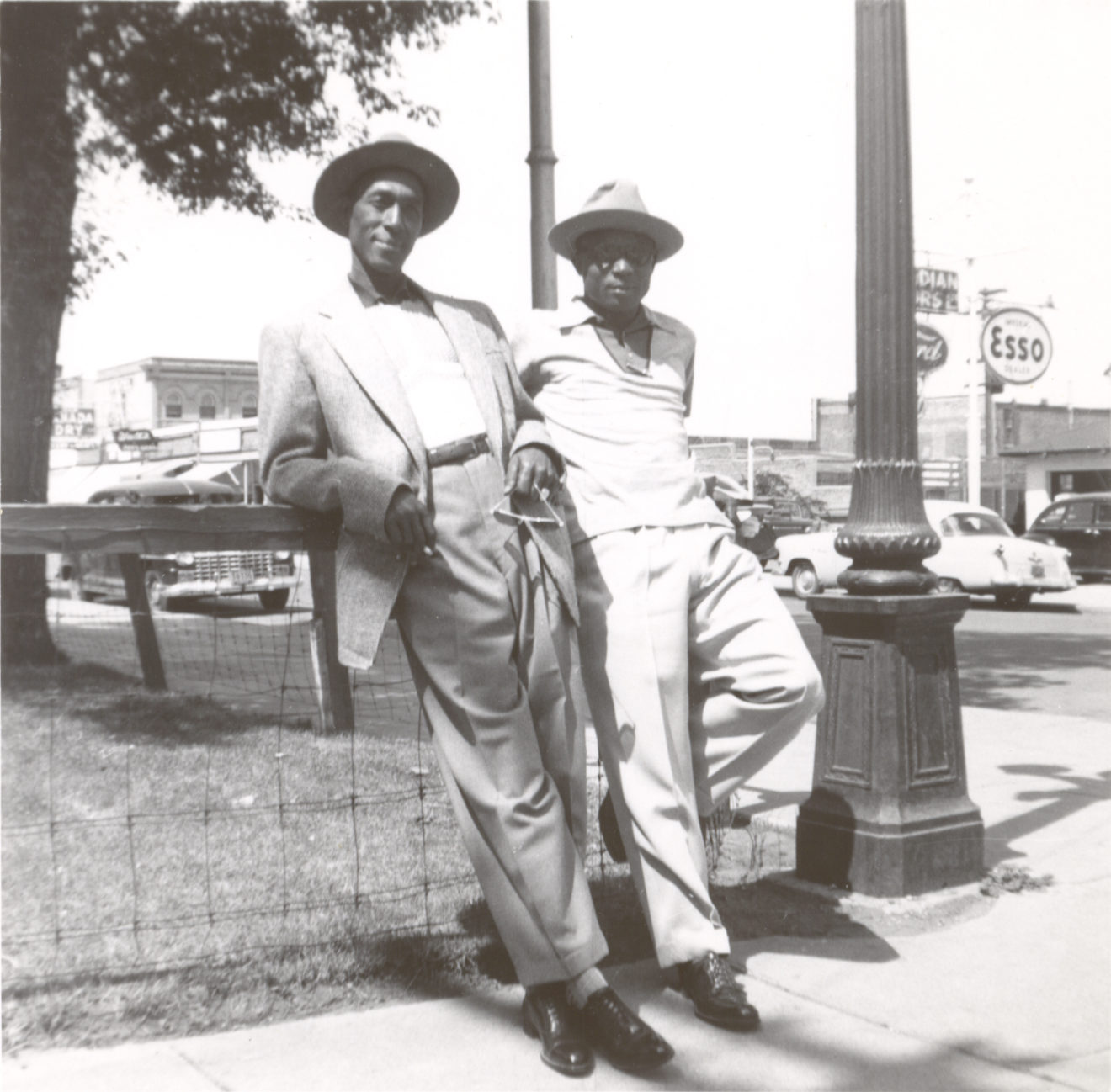 Barney Brown and Jimmy Valentine, both Negro League imports on the Brandon Greys of the ManDak League, in downtown Brandon, Manitoba. Photo from Jay-Dell Mah Collection, courtesy of Lois Bentley.
Back east in 1946, Jackie Robinson played one season for the Dodgers' minor-league affiliate, the Royals, based in Montreal, leading the league in batting. The Montreal fans' love for the sporting trailblazer was most apparent after the last game of the year, when the Royals won the league championship. A hoard of gleeful fans chased Robinson through the Montreal streets, from the ballpark to the team hotel. "It was probably the only day in history that a black man ran from a white mob with love instead of lynching on its mind," Robinson's friend Sam Maltin wrote the next day in the Pittsburgh Courier.
Four years later, Willie Wells' Winnipeg Buffaloes reveled in their own championship, the first in the history of the ManDak League. Short for "Manitoba and Dakota," the ManDak League was founded in 1950, and was initially comprised of five teams: the Buffaloes, the Brandon Greys, Elmwood Giants and Carman Cardinals, all from Manitoba, and the Minot Mallards out of North Dakota.
The Buffaloes' party, thrown at a deluxe hotel in Downtown Winnipeg, on the dime of their cigar-chomping, white owner Stanley Zeed, saw nine aging Negro League veterans – averaging 35 years old – celebrate with black up-and-comer teammates, taking advantage of the opportunity for baseball seasoning up north. The only other white folks directly involved with the team's day-to-day operations were two trainers, the secretary and the batboy.
The Buffaloes' youthful players "Butch" Davis and John Irvin Kennedy were eventually signed by the MLB's St. Louis Browns organization, finding spots on minor league teams. Kennedy later became the Philadelphia Phillies' first-ever African American player in 1957. Twenty-four-year-old Buffaloes outfielder Joe Taylor also played four seasons in Major League Baseball, breaking in with the Philadelphia Athletics in 1954.
John Kennedy, player for the Winnipeg Buffaloes. Photo from Jay-Dell Mah Collection, courtesy of Tazena Kennedy.
With home games at Osborne Stadium in Winnipeg, which according to Barry Swanton had vast enough wood-plank stands to seat about five thousand, Zeed saw to it that the Buffaloes made a good living. Like the other Canadian team owners, he had to if he was going to lure the players north. According to Barry Swanton's The ManDak League: A Haven for Former Negro League Ballplayers, 1950-1957, players earned between $300 and $1,000 a month, comparable to what they would earn in America. "Like in the States, Canadian owners simply wanted to put the best team forward," Leslie Heaphy says, "and they were very willing to look anywhere." Dr. Layton Revel of the Center for Negro League Baseball Research says during this era about five hundred African American ballplayers found their way up to Canada, where teams like the Buffaloes were so well-funded that – in contrast to the Negro Leagues at that time – players above the border "didn't have to worry about their team folding or getting their paychecks on time. They just worried about playing baseball."
Author Kyle McNary, who wrote a biography on Negro League and ManDak League star Ted "Double Duty" Radcliffe, says his now departed subject told him the ManDak schedule, with four or five games a week, was far less taxing than that of the Negro Leagues, where players were expected to don their spikes seven or eight times a week. In his late forties and early fifties during his time in Canada, Radcliffe appreciated the lighter workload. "He got extra money as player/manager in Canada, too," adds McNary.
A baseball card distributed during the Judy Johnson night celebration, an annual tribute to Negro League players, held in Wilmington, Delaware. Ted "Double Duty" Radcliffe was the honoree in 2004. Illustration by Michael D. Mellett, courtesy of Bill Guenthner.
Ron Teasley, a Detroit native who played for the Dodgers organization in the minor leagues, and the New York Cubans of the Negro Leagues, says he earned some of the best money of his career with the Carman Cardinals in the Great White North. "With the Dodgers I think I was paid $150 a month," he says. "With the Cubans it went up to maybe $300, but I came up to Canada and it was $600." That's nearly $6,000 in today's money. Teasley adds that he also enjoyed free home-cooked meals at a boarding house.
Though not many ballplayers of that era are still living, author Jay-Dell Mah, who served as a batboy for teams in Saskatchewan before publishing the definitive website of Western Canadian baseball history, says Teasley's memories of acceptance and inclusion were echoed by virtually all his fellow players of color. (During this era, Latino players with both light and dark complexions signed with Canadian teams as well.)
Nat Bates, who played two seasons in Western Canada before embarking on an extensive career in California politics, wrote in an email that Canadian fans were "very friendly and receptive to American athletes."
Mah says black players, sometimes seven or eight at once, would pile into a sizable car and drive hundreds, even thousands of miles into Canada to play. On other occasions, all-black teams from the U.S. would go north as a group to play. Revel and Mah recount the time that one team, the Eagles of Jacksonville, Florida, boarded a bus to the small Saskatchewan town of Indian Head, where they became the Rockets. In the summer of 1950, they took home a $9,000 purse after winning a tournament there.
Edward "Peanuts Nyasses" Davis, pitcher for the Indian Head Rockets, an all black team, in 1951. Photo from Jay-Dell Mah Collection, courtesy of Ken McCabe.
"They loved it," Mah says of the black ballplayers' trips north. "They felt it was a breath of fresh air because they didn't have to sneak into the back door through the kitchen to get something to eat at a restaurant."
"The race issue was so very different," Heaphy says of America's northern neighbor. "They didn't have the history of slavery like the U.S., so they saw [blacks] simply as ballplayers."
Some of the Canadian locals even treated the players as virtual extended family. In a letter to author Barry Swanton, Lyman Bostock – the first baseman for that 1950 Buffaloes championship team, who was good enough to also go barnstorming on a team organized by Jackie Robinson – recalled the hospitality of a woman they both only remember as "Mrs. Whiteside," who would have players stay in her Winnipeg home. She'd wash their clothes and bake them pies to eat on road trips. "They couldn't believe that this white lady did all that," Swanton says of the black players. "She was a real sweetheart." Modie Risher, who before he passed told Mah that the one season he played in Lloydminster was "the nicest year I ever had in baseball," also said he remained lifelong friends with a local family, the McLeans, after meeting them while shopping. As the story goes, Rod McLean, then a little boy, was standing next to his mother, staring at Risher. Suddenly Rod said, "Momma, look at that black man. Doesn't he have a beautiful tan?" "His mother was a little halfway embarrassed," Risher continued. "The next thing I knew the father called me and they had me over for dinner that Sunday, and from then on [we were] in contact every year."
A 1948 ad published in the Brandon Daily Sun for a game in Brandon, Manitoba.
Ron Teasley says the people of Carman, Manitoba, "were just wonderful," although much more reserved than their American counterparts. He recalls one game in which he was manning third base, and after an opponent smacked a base hit with runners on first and second, he corralled a relay throw from the outfield, just as the lead runner crossed third. Teasley quickly turned around and tagged him out, but the trailing runner hadn't stopped. Teasley flipped around again and nabbed the second runner too. "I thought, Wow, what a play," Teasley recalls, "and I looked at the crowd and…nothing. There was no applause."
"Double Duty" Radcliffe told McNary that their reception wasn't always so welcoming. "Anytime you're the only black person in town," McNary says, "you ran into some stuff. Was it like Jackie Robinson [with the Dodgers] with forty thousand people screaming at you? No. But 3,500 screaming at you is still pretty bad."
Still, McNary says Radcliffe told him that Winnipeg, where he played for the Elmwood Giants, "was better than most places" in the U.S. when it came to how white fans treated black players.
A 1948 report in the Regina Leader-Post about a game in Regina, Saskatchewan.
As team owners looked to outdo their rivals, the level of play in Canada soared. "You may be a professional team from the United States, but you didn't just go up to there and beat the crap out of everybody you played," Revel says. "It was competitive baseball."
By most accounts, the quality of play in Canada at this time was roughly equal to the high levels of America's minor leagues. But after the 1957 season the ManDak league folded, and soon so did the majority of Canada's modest baseball organizations. Mah thinks this occurred because of a loss of interest as, like in the U.S., more people acquired cars, TVs and radios, offering Canadians more options for entertainment.
Despite all the attention Jackie Robinson drew, the Major Leagues in America lagged far behind the Canadian leagues when it came to integration. It was 1959 before each Major League Baseball team boasted even one black player. That year, Elijah Jerry "Pumpsie" Greene suited up for the Boston Red Sox.
Back in 1951, the season after Leon Day and Willie Wells each raised a glass in victory at a Winnipeg hotel, a seventeen-year-old "Pumpsie" Greene wore the uniform of the Medicine Hat Mohawks in the Western Canada League.
"People don't realize just how extensive the ball-playing by African Americans up in Canada was," Leslie Heaphy says, "and how important it was for them to have a place to go."
Michael Stahl is a freelance writer, editor and journalist based in Queens, New York, whose work has been published in several print and digital publications, including Rolling Stone, Vice, Village Voice, Quartz, Splitsider, and CityLab. He is a features editor at Narratively.