Villa Las Estrellas might be the closest you can get on Earth to experiencing life on another planet. Photo by Peter Wan.
Welcome to Villas Las Estrellas
Imagine that you had to remove your appendix to live in your hometown – and your family had to do the same.
That's the only option for long-term residents – even the children – of Villas Las Estrellas, one of the few settlements in Antarctica where some people live for years rather than weeks or months.
Appendix removal is a necessary precaution for the handful of people who stay longer-term because the nearest major hospital is more than 1,000km (625 miles) away, past the tip of King George Island and on the other side of the Southern Ocean's icy swell. There are only a few doctors on base, and none are specialist surgeons.
Photo by Simón Vargas / Pablo Arias / Tres Tercios.
While the settlement of around 100 people is mostly populated by a rotation of scientists and personnel from Chile's air force or navy, those on longer-term stints with the military often bring their families.
That means there's a post office, a small school, a bank and other basic facilities. What's life like there for residents? In 2018, BBC Future visited to find out.
Arrival
Photo by Peter Wan.
On arrival, a welcome sign and pillar of arrows pointing to distant cities remind you how far civilisation lies: "Beijing: 17,501km".
A gravel landing strip nearby is the primary route in and out, seated on converted stretchers inside a Lockheed C-130 Hercules, a huge military transport plane. On the flight over from the far south of Chile, the only sight visible from the scratched, tiny windows is hundreds of miles of dark, cold ocean, where death would come within minutes.
The yearly mean temperature is -2.3C (27.8F) , which is actually warmer than the Antarctic mainland. Photo by Simón Vargas / Pablo Arias / Tres Tercios.
When BBC Future visited in January, the horizontal hailstones of an Antarctic summer day struck the face straight out of the plane door. Nearby, basic buildings cling to the rock, with pipework running between them. It's hard to escape the smell in some places: a mixture of exhaust and chemical toilets. This is industrial living.
Inside the structures, however, it is cosy and welcoming. The walls feature memorials and photos to past expeditions and visitors – there's even one plaque marking Stephen Hawking's visit.
Sergio Cubillos. Photo by Richard Fisher.
Family Life

Sergio Cubillos is the Chilean commander of President Eduardo Frei Montalva, the air force base. Cubillos has lived there with his wife, and his son, for more than two years. While his family occasionally fly back to Chile, he has remained there the whole time.
The base commander's son after a heavy snowfall. Photo by Sergio Cubillos.
The weather, obviously, can be tough. "This winter we could not leave our home for weeks," says Cubillos. "It was -47C (-52F)."
Children attend a small school, but often the snow gets in the way. Photo by Sergio Cubillos Alvarado.
However, Cubillos says his family adapts, and enjoys the adventure of being there. One of his son's favourite movies is Happy Feet, the story of an Antarctic penguin.
Celebrating Halloween. Photo by Sergio Cubillos.
Does he himself enjoy life in Villas Las Estrellas? "Yes, but that's because I am the commander!" he laughs.
A small sliver of green, in an environment dominated by jagged black rock and white ice. Photo by Sergio Cubillos.
Others work here with their partners, such as the Chilean base doctor. Getting pregnant is discouraged – at least in the military – because it'd be too risky.
Penguins that have never been hunted by humans wander up without fear. Photo by Richard Fisher.
Ice sloshes against the stony beaches amid white seaweed and penguin carcasses. Photo by Simón Vargas / Pablo Arias / Tres Tercios. 
In the distance, a Russian church looks down over the Chilean base. Photo by Yadvinder Malhi.
Trinity Church is manned by Russian Orthodox priests. Photo by Peter Wan.
The old post office, now replaced. Photo by Peter Wan.
Cubillos (front), a lieutenant colonel, leads a Chilean air force team. Photo by Sergio Cubillos.
Medical facilities are basic, and any serious complications require evacuation. Photo by Yadvinder Malhi.
Getting around requires tracked vehicles, or 4WD trucks… Photo by Peter Wan.
...or boats. Photo by Yadvinder Malhi.
Return
Back on the Chilean mainland, the Sun shines as the C-130 Hercules powers down.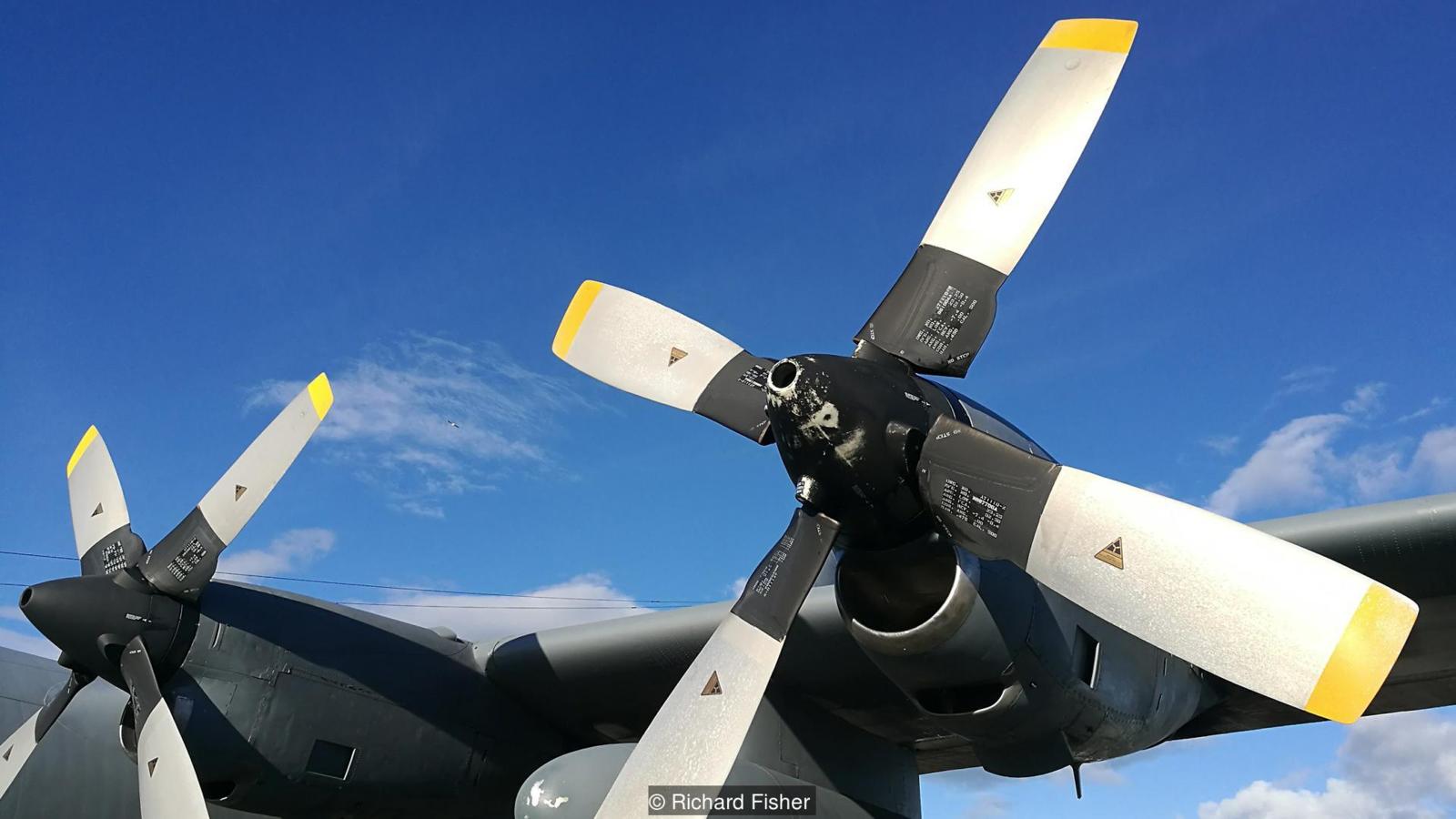 Earplugs are necessary for the two-hour+ journey, due to the C-130's powerful propellers. Photo by Richard Fisher.
As the coach travels back to Punta Arenas, Chile's southernmost city, the colour that leaps out most is the green. Flowers, grass and trees are such a familiar sight to most of the world – yet for the residents of Villas Las Estrellas, the mainland's vibrant hues are forgotten beneath the landscape's palette of black, grey and white.
Yet while conditions may be hard, the long-term Antarctica residents experience a one-of-a-kind life at the extreme end of the world that few people will ever share – albeit without their appendix, of course.
Photo by Richard Fisher.