Michele McLaughlin and David Nevue, solo pianists who are streamed millions of times a week. Photos by Sophia Shay Photography; David Nevue.
On October 3rd, 2018, Michele McLaughlin got some exciting news: Her music has been streamed over one billion times.
Young artists in popular genres are racking up streams like crazy these days — presumably McLaughlin is an ascendant rapper releasing 90-second battering rams through SoundCloud? Or maybe she's the guest vocalist on the latest reggaeton posse cut to rule YouTube?
Nope: McLaughlin is an independent artist in her forties who makes contemporary instrumental solo piano music. She's a star in her field — to the point where another pianist says, "I'm not quite doing Michele McLaughlin numbers" — reportedly making around $250,000 a year. And she's not alone. "We have a large group of solo piano players that are making a killing, making $7,000 to $10,000 a month," says Kevin Breuner, VP of Marketing for CDBaby, which touts itself as "the largest global digital distributor of independent music."
"Some of them are making far more money from their music than the artists than you see on major labels that sell OK but are not crossing the threshold of really having an income stream for years to come," Breuner continues. "These piano players have cracked that."
That's thanks to the rise of streaming services and an accompanying shift in listening habits. "It used to be that, to get signed, it had to be something that somebody thought they could sell to a mass market," Breuner explains. "But now, music gets used in so many different ways. When we dug a little deeper, this particular genre group and a lot of other genres that tend to be mellow and instrumental perform really well on streaming — there are a lot of dentist offices, a lot of work-office environments where people are putting on quiet, soothing music in the background and just letting it play."
"I had someone ask me the other day, 'Are you OK with being known as sleepy music?'" says Chad Lawson, another successful solo pianist. "I think he was trying to take a jab in a roundabout way. But I said, 'Yeah, I really am.' I have a running joke: Don't listen to my music while you're driving. It needs to have a warning sticker: Do not operate heavy machinery while listening to this."
* * *

The name "solo piano music" is a testament to the gaping holes between commercial genre definitions. "I always get the comment back that, 'Your music is too classical for pop; it's too pop for classical; you're not New Age; we don't know where to put you,'" says Jennifer Thomas, who describes her albums as classical crossover or epic cinematic orchestral piano works. "Because solo piano is not an official genre in the charts, when I release an album independently I will put it in the New Age genre," adds Matthew Mayer, a prescient pianist who purchased the domain solopiano.com way back in 2000. (He went Number One on the New Age albums chart in September.)
But if the names and niches differ, many, if not all, of these musicians link their work back to one source: George Winston. "I kind of look at him as the godfather of all this," Mayer says. "He was the first to be popular enough to where his music got into the culture to where a 17-year-old kid would hear it and be inspired," adds David Nevue, who also recently crossed the billion-streams threshold. "It was peaceful, it was meditative, all melody-driven — these were songs with verses and choruses and bridges; they weren't these great, epic sonatas. I can't play Rachmaninoff, no way, never will happen. But George Winston, I can play like that."
Winston, who sold millions of albums on Windham Hill records, was part of a commercial flowering of solo piano music in the Eighties, when the record industry was flush and New Age came into its own, earning its own Grammy category in 1987 and a Billboard chart in 1988. "You had your stars: George, David Lanz; those guys on big-time record labels getting big plays in record stores — I remember going into record stores in the Nineties and a lot of times they were just playing Yanni," says Joe Bongiorno, a solo piano artist who also set up a studio in Arizona that now records roughly 50 albums a year in this space.
But there wasn't room for too many of Winston's acolytes to enjoy commercial success in what was still a niche genre. In the pre-streaming era, radio was important for exposure, but "I could not get airplay anywhere," says Nevue, who put out his first album in 1992. "The closest format [for me] would be classical — they'll never play my music. Or a jazz station, they're not going to play my music. I live in Oregon and in Portland there was a show called 'Lights Out' for an hour or two every night. You might get your music on there."
So solo piano was a tough slog. McLaughlin worked a day job as an industrial project manager; Lawson waited on tables for 15 years and held shifts part-time at a video store until it stopped existing; Bongiorno was in the restaurant industry; Nevue worked for Symantec. By necessity, these artists became adept at DIY marketing. Nevue was selling his music online as early as 1996. "In the early days, in order to try to get new customers, I would do a 'try before you buy' thing where people could go to my website, and if they wanted to purchase the music, they could send me a check and I'd send them the CD, and if they didn't like it they could send it back," he recalls.
Nevue was also an early proponent of mailing lists, and he published and regularly updated a book titled How to Promote Your Music Successfully on the Internet — McLaughlin, among others, read it — that he sold to augment his income from music. Eventually he decided to save up a year's salary and use it as a cushion to quit his job and give full-time artistry a shot. He left Symantec in 2001. "I had a year to try to make it work, and those savings to draw from if sales started to fall off," he says. "But they never did."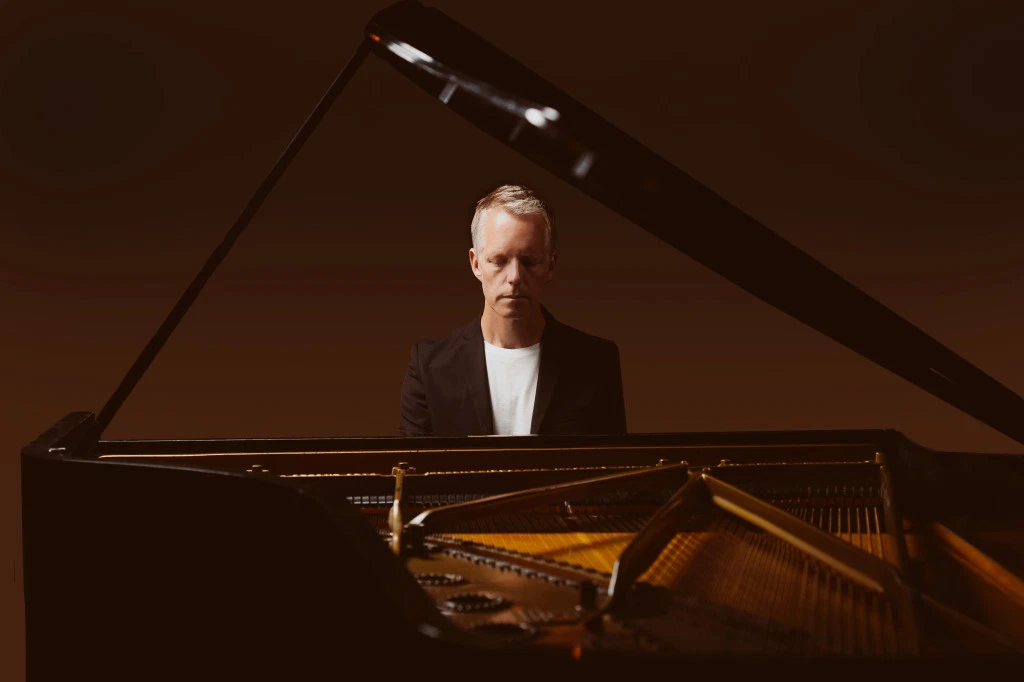 Chad Lawson in 2017.
* * *

If Winston is solo piano music's Big Bang, Nevue's subsequent creation, Whisperings: Solo Piano Radio, might be the equivalent of the first sign of life on earth.
Like many great ideas, Whisperings: Solo Piano Radio was born out of isolation. "I didn't know if there was anybody else out there doing what I was doing as an independent artist," Nevue says. "By the 2000s that whole genre had faded. As a solo pianist, I just felt like no one took what I did seriously. So I just thought, 'Hey, if I want to get my music on the radio, I should create my own radio station.' I started Whisperings: Solo Piano Radio in [August] 2003, and my big concern at that time was whether I would be able to find enough solo piano music other than mine to put on. As it turns out, I had nothing to worry about."
Whisperings was based around a simple concept: Artists agreed to let the station play their music royalty free as the price of exposure to a broader community. At its peak, Nevue estimates that the channel was bringing in 20,000 to 30,000 listeners nightly. "Things really kind of started to pick up with Whisperings," says Bongiorno. "I started getting some notoriety."
But Nevue also had broader goals. "Anybody could do a radio station," he says. "I wanted to create something more meaningful, where people would come together of like mind and like skills and lift each other up — do something to help the genre and just remind people that there's a lot of great music that nobody's hearing at that point in time."
"We had a forum we would all log into and chat with each other, and we started making friends and we started touring and doing concerts together," Bongiorno adds. "It's a real close-knit community. I'd say I've got 20 or 30 of my very best friends that I met in the solo piano world largely because of originally meeting with the Whisperings community."
Nevue's vision helped solo piano artists maintain a unity that may be lacking in other instrumental genres. "I've got some friends that are pretty established in the solo acoustic guitar world and they're like, 'We're really jealous of the camaraderie that you guys have because in our genre, everything is competitive and nobody shares any ideas with anybody, nobody tours with anybody,'" Bongiorno says. In contrast, in the solo piano space, "we're all going to bat for our genre of music."
Matthew Mayer after a 2017 performance in Zagreb National Theatre in Croatia.
* * *

Since the solo piano community had not been embraced by mainstream outlets like radio, these artists were perhaps more willing to take risks on new distribution platforms. In 2003, that meant Whisperings. A few years later, Bongiorno recalls, "I was the general manager of a restaurant in Seattle, it was late at night, and I was just scouring the the internet searching for Internet radio. I was about 30 pages in on a search and I saw this little listing for Pandora. I clicked on it and I saw it: 'Send in your music.'" Bongiorno did. Then he forgot about it.
He didn't see an impact immediately. "A year or two later, little bit of royalties came through — maybe 40 bucks a quarter. But it just started taking off." In 2010, he "quit a six-figure job in the restaurant industry to make about 30,000 on my music." That seems rash, but he now claims to be making "a couple hundred grand a year," much of it from 70 million annual plays on Pandora.
McLaughlin had a similar stroke of luck when she submitted her music to Pandora in 2008, though her story is more bizarre: Thanks to algorithmic quirks, "my Celtic Dream album got lumped in with the Linkin Park station and melodic metal stations and dubstep, and so I got a lot of exposure because of that," she says. "[In turn], that increased my YouTube and my iTunes [downloads] and my Amazon [downloads], so all of that sort of exponentially grew over a period of four years. Even today, those albums that I put on Pandora back in 2008 to 2012 are the ones that get all of the exposure."
You had to seek out Whisperings — identify solo piano as a genre you wanted to hear, identify internet radio as a way to hear it, hunt for a station, try something new. Pandora wiped away most of that responsibility: The listener only needed to type in "soothing" or "peaceful" and the platform did — and still does — the rest. "They're not saying, 'Oh geez, that Matthew Mayer is a really awesome artist — I'm going to go find him,'" Mayer explains. "They discovered me through a passive listening experience, most likely because they were listening through a mood and they were like, 'that song was pretty cool; who was that?'"
Lawson has a theory about why solo piano music is particularly well-suited to a mass-passive-listening experience like the one on Pandora. "During the week my numbers are super high, way up there," he says. "Come Friday, they drop like a rock, man. It's like, nobody wants to hear this crap on the weekend. Let's be honest — it's party time, right? And then it's funny, because on Sunday night, you see it just all of a sudden skyrocket."
"My largest audience being 18-24ish, what are those people doing?" Lawson continues. "They're in school. They're studying. This style of music doesn't distract. It doesn't get in the way."
As Spotify gradually became popular in the U.S., and Apple set up Apple Music, they too instituted popular passive listening experiences that draw on solo piano music. One song Lawson released under the name Moux is currently Number Three on Spotify's 4.8-million-followers-strong Peaceful Piano playlist.
However, Pandora is still driving the majority of these solo pianists' streams. Thomas says she has 360 million streams on Pandora; in comparison, she's amassed 10 million on Spotify since 2015. "I don't have the incredible reactivity at Spotify that I did and do currently still have with Pandora, but I still do really well," Bongiorno says. "I'd say 75% of my streams still come from Pandora." But Spotify is beginning to account for a bigger share of his listens: Two years ago, he estimates 95% of his streams came from Pandora.
"We're still discovering what Spotify can do," Mayer adds. "But I think when you point to mood playlists, I think all [streaming platforms] will prove to be supportive of this genre."
Spotify and Apple Music have other advantages for the solo piano stars: The platforms' data allows for micro-targeted marketing. "They really let you hone in on your audiences, be it by location, by age, by various categories," Lawson says. "I can now build ads directed to people in the area where I have a show to drive and increase ticket sales. There are also various ways where you can actually email your listeners through streaming and say, 'Hey, I'm going to be in town.'"
"Touring increases the streaming which then increases the awareness of my music to where someone heard it and they're a music supervisor and they want to use it for an IBM commercial," Lawson adds. "I have to tend those three fires nonstop" — but streaming means that to a large degree, those three arenas are interconnected in a way that they weren't in the past.
* * *

The success of this cadre of solo piano artists may not be replicable — they were able to benefit from getting into the playlist systems early. "I'm guessing that their algorithm plays heavy favoritism to how long people have been on there," Bongiorno says. And when they were fighting to get on to Pandora, the competition for attention, even in their small niche, was much less fierce. "If I had to start now, it'd be a lot harder — there's so much more noise, so many more artists," Nevue says.
Since he runs a studio, Bongiorno sometimes finds himself having to disillusion young, hotshot players who believe they can "become a rock star on their first solo piano album." "A lot of people think they can come in and record a solo piano album and it's going to take the world and they quit their job. Unfortunately I know a handful of people who have done it, kind of fell on their faces and had to get back into their careers. It's not an overnight sensation industry."
And even their now-lucrative existence is not permanent. Pandora was early in the online streaming space, but Spotify and then Apple Music have quickly overshadowed Pandora as the destination streaming platforms with the most influence over mainstream pop. As a result, Pandora's future has seemed shaky in recent years, as it started to lose money and monthly users. After taking nearly $500 million from SiriusXM to cover expenses in 2017, Pandora was bought outright by SiriusXM in September.
For solo pianists, who are still fairly dependent on Pandora due to their early embrace of streaming, this is concerning. "The majority of the money that I make from my music and my career comes from Pandora, so if that were to change or modify in any way, that would be potentially catastrophic for me," McLaughlin says. "We've all been nervous about [Pandora's health] for years now, but they always seemed to still keep on going," Thomas adds.
But as streaming continues to dominate forms of listening — including in markets that Pandora doesn't reach, which includes any outside of the U.S. — demand for solo piano music might also continue to rise. "I know it's cliché, 'music is the universal language, blah, blah, blah,'" Mayer says. But, "there's a global audience for this music: It sounds the same in China as it does in India as it does in Colombia as it does in America. No matter where you're at, you could be attracted to this kind of music."
Breuner at CD Baby thinks new streaming technologies may also further the opportunities for solo pianists to find listeners. "As we trend towards voice-activated speakers and people just make that more of how they use things, I think there's still lots of chances for independent artists to see success like what they've seen on Pandora. When people say, 'Hey, play me some piano music,' or, 'Play me something quiet,' the systems aren't necessarily going to go to the mainstream record labels for that music" — in part because the major labels have ignored that music. (Streaming services have not made the same mistake: Spotify's "fake artist" controversy was centered around instrumental recordings made for mood-based playlists.)
For now, these solo pianists' royalties keep adding up. "My income from those micro-pennies and those millions of streams every week turned into a very healthy income that far surpasses anything I ever did with CDs," Nevue says. "Who could have imagined this?"