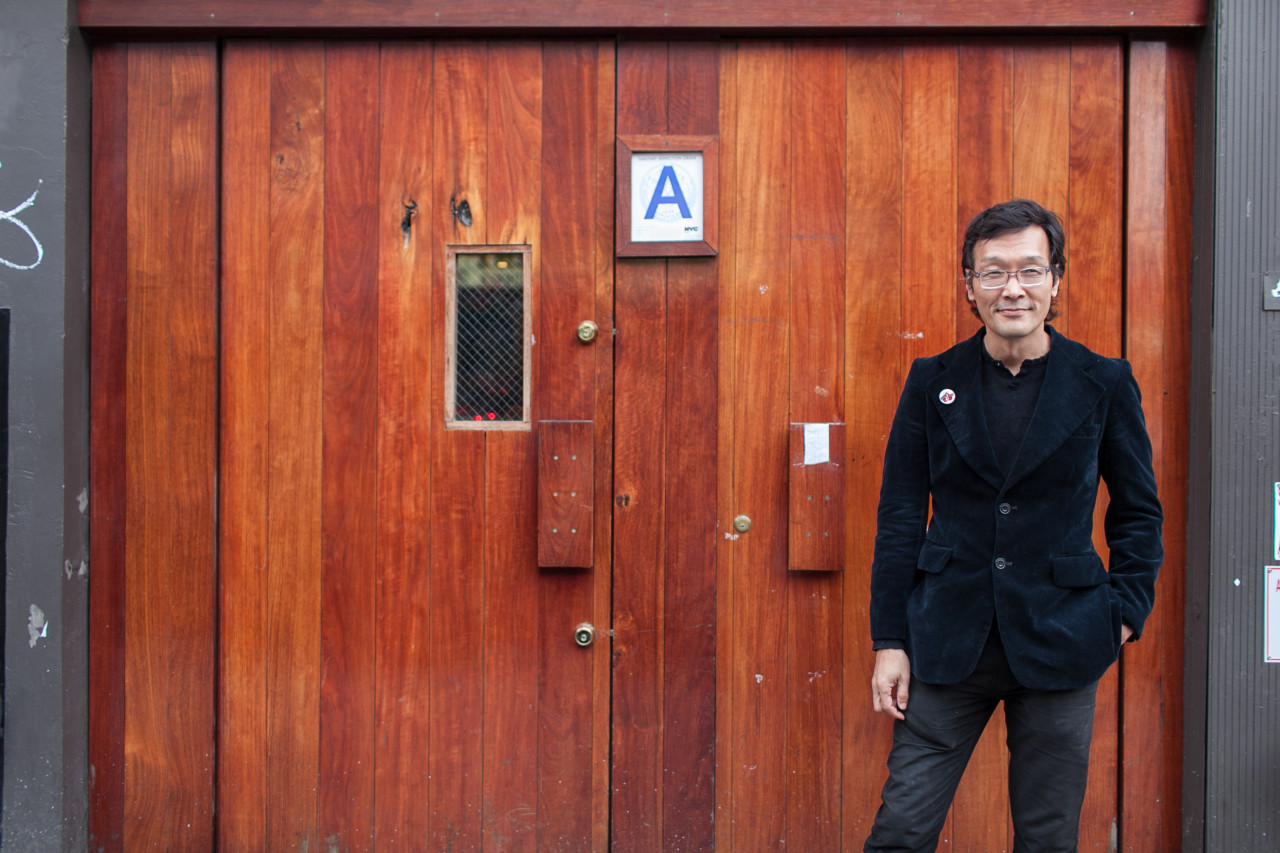 Photos by Emon Hassan.
Real surf rock music is instrumental. It's hard and fast, and heavily amplified with a reverb twang reminiscent of waves crashing against the shoreline. There are no lyrics to get lost in, and no lyrics to get locked into.
If you're a dancer, that means you won't lose a step to words. You can jive, or shuffle, or mimic sultry burlesque dancers. Surf rock doesn't demand set steps or moves. Before it became a style of music it was just a dance called "the surfer's stomp."
The surf rock scene is New York is small, and unless you're in it, you probably haven't heard much about it. But on a Saturday night, if you happen into an East Village bar named for the archaic practice of shrinking heads—prominently displayed in a glass case not far from the glow stick-adorned, tiki-drink-slinging bar—you might hear the strains of a bygone era from the back room. The music resembles the tempered marriage between the good-times, everything-is-just-dandy, pitch-bending pop of '60s girl groups like The Shangri-Las and the persistent heady flush of the Iggy Pop-led pre-punk Stooges. It's music for a feral beach party, and if it's on, you'll almost certainly see the surfer's stomp of the music's most dedicated local fan.
The crowd is one common to any alt-genre show where the musicians are struggling to find their foothold: partners of band members snap obligatory photos, friends chug beer and clap at appropriate breaks between songs, and a few stragglers, drunk and sweaty from a night spent somewhere else, dance tipsily to the loud and powerful rush of guitars. The bands travel from as far as Maine and Florida for the opportunity to perform in a small, windowless room; shows they play for the love of a genre many people have never heard of, or associate with one '60s pop group from southern California. The bands don't make much money at these performances; a bucket is passed around at the end of the night and any crumpled bills collected are split among members.
There are, of course, the true fans here, like Unsteady Freddie–the so-called "Ed Sullivan of Surf"— who organizes the events and chairs the show like an emperor of a long-forgotten kingdom. Freddie has the wild crown of curls like an adolescent boy who's only just realized he's grown up. He was once "hard" into the music scene, which, he says, means he did a lot of stupid stuff, like binges that lasted well into daylight. He's sober now, and although he describes himself as shy, he's wildly enthusiastic about surf rock, and possesses an encyclopedic knowledge of niche musical minutiae. Then there's Michael Park, or "Disco Mike" as he's known to friends, a thin Korean-American man with coke-bottle glasses who spends much of the evening jiving and writhing in a style that's part Usher, part professional ballroom dancer.
Disco Mike rarely misses a show. He is a dancer, defining the notion that what you do is synonymous with who you are. He started dancing as a child, although it's only recently that he began competing against dancers twenty or thirty years his junior. He never wins; he's "up against b-boys who can do helicopter spins," but a few years ago at a dance competition called Urban Renewal he made it to the semifinals.
When he was younger, he admired Elvis's moves–the sharp hip thrusts, the corresponding swing of his arms, the subtle footwork–and realized he could dance like that too. In retrospect, Park remembers, it was a very simple dance, not too different from how people dance nowadays. Park has always had a turbulent relationship with dance, and for seventeen years–a period marked by a "loss of confidence"—he didn't dance at all.
***
To begin with, his parents were totally against dancing. They were from the "generation where rock-n-roll was the devil's music." The family emigrated from Korea to Saskatchewan, Canada, so his father could pursue a career in medicine. They might have ended up in the U.S. from the beginning, but Park's father had been denied an American medical license and they went to Canada instead. Years earlier, during his medical residency, he had befriended a Russian doctor, and in a twist that seems like a chapter out of 1950s McCarthyism, the Russian doctor's brother was a spy for the KGB who sold American secrets to Russia. Park's father defended him, and became an instantly undesirable candidate for an American medical license.
"I don't believe in coincidences," Park tells me when I meet him at a small diner in the East Village. "But there are a lot of coincidences that run through my life." He wonders if he would have gotten into surf music at all if he hadn't grown up in Canada. The cold weather made him long for sunny California, and the type of music that exemplified it.
The family moved to America a few years later when Park was just beginning high school. His father applied for a Green Card after getting his Canadian medical license. They were tired of cold Canadian winters—sometimes 40 below zero—and ready for a change. His mother still calls Canada "that frozen wasteland." In Schenectady, New York, his father became the chief of services at the Oswald D. Heck School for the developmentally handicapped.
In middle school and high school, Park began to follow his dance obsession in earnest. He danced whenever he could and lobbied for more school dances, as one of the only boys interested in them. He has always felt the push and pull of dance against those who disapproved of it: first his parents, then his classmates. In high school he ran for class office in part so he could organize dance parties. It was around this time he began to feel a divide between the boys and the girls, a certain competitiveness: The women were excited for the parties and ushered in his candidacy, and the men didn't want them at all.
Dance finally won. It came down to a single dance he organized for graduation as vice president of his class. His male classmates refused to dance, incredulous that Park would even be interested. It got to the point where he felt brainwashed by them, questioning his own desire to step onto the floor. In a moment of frustration and anger, Park walked out of the dance party he had organized. After the graduation party, his father—a man who had been totally against his dancing—said, "What the hell did you do that for?" It was a defining moment. From then on, Park decided he was going to dance, in high school and afterwards.
Except.
Except for a long time: seventeen years. Disco Mike left dancing for a girl.
He met his then-girlfriend at the comic book shop where they both worked in Midwood, Brooklyn. She was an aspiring graphic novelist, and he was hustling to make ends meet when his chosen career in illustration and graphic arts was just switching over to digital. Then he made a wrong move. He invested in an Amiga computer instead of a Mac, a much more useful tool for graphic arts. It wasn't until 2000 that he could afford to buy a Mac, and without it he found few graphic design jobs, and fewer illustration gigs. He worked three jobs, most on the periphery of the arts, and there was little time for dance.
He still liked dance, still watched it on TV. But he was stuck. He didn't have time for dance; instead, he was locked into "that serious mode where college grads are primarily interested in making a living." And so, at the end of seventeen years, when he and the girl that didn't like to dance didn't make it, he decided he needed to reevaluate his life, to find out what he really enjoyed. (The girl who didn't like to dance landed the job of her dreams at DC Comics.)
***
Park is a self-trained dancer. He took a single dance class at McGill. Until recently, that was his only training. He'll try almost any style, but mostly he's a freestyle dancer and has trouble conforming to steps. He compares it to being a musician who plays by ear. So instead he's developed his own style of dance that's "immutable from anything from rock and roll and surf up to hip-hop."
Asked if he has a name for his style, he smiles. "I call it Jeet Kune dance," named for the Bruce Lee style of martial arts.
Park is younger than he looks, with the type of smooth skin and dark black hair that belies his fifty-six years. He fits the mold, he says, of the "world's oldest teenager"—he still gets carded at bars. He compares himself to Dick Clark and it's not hard to see why. "Our names almost rhyme," he points out. "Mike-Park-Dick-Clark." In 2011, he started a dance promotion company that promotes music that you can dance to. He brings in surf rock bands, hip-hop artists, rappers, anything that inspires dance. He named the company Dancestand, after Dick Clark's "American Bandstand."
Park favors two styles of dancing at the moment: Waacking and his own Jeet Kune, which he likes to use for surf. The former is a dance style that became popular in the '70s and garnered national attention on the show So You Think You Can Dance. Waacking is like vogueing in hyper drive, with your arms swinging in staccato precision to catch every beat and accentuate every sound. Sometimes dancers' arms whirl like the propellers of a helicopter so that you can actually see the music moving through the body. Park remembers that when disco was first born, he saw the early iteration of waacking: a unique combination of karate and disco. It wasn't until twenty or thirty years later that he could put a name to it.
The first time I saw Park dance was at a small surf rock show at Otto's Shrunken Head in Manhattan. He was wearing a shirt that proudly declared him the "Dance Patrol" and careening around the floor with stiff, precise steps and arm movements that corresponded to the music in a way that made other people step back and watch. Later I saw him at a show that featured two burlesque dancers in white wigs and sunglasses. He mimicked their moves, watching as they alternated raising their arms in a sultry surf-rock punk princess waltz.
Disco Mike, eternal teenager, at the club.
The show didn't exemplify it, but surf rock is wildly popular. There are pockets of popularity worldwide that seem almost inexplicable—Spain, Italy, France, and Australia hold annual surf rock festivals, and in Japan, they've created an onomonopia for the surf rock glissando. They call it "teke teke" for the sound a guitar makes as the hand glides down the fret. Almost all surf songs feature that glissando—a glide from one pitch to another with a double pick—and it's instantly recognizable, designed to imitate the ebb and crash of a wave.
It has its roots, of course, in surf culture. The heavy guitar line and faded instrumentals, built around the rushing crash of the drum line, evoke images of the ocean, but the genre is named "surf rock" primarily because it was popular among young surfers in California in the 1960s partial to its "watery" sound and frenetic vibrato-picked guitar solos.
If you mention surf music, most people think of The Beach Boys, who brought poppy vocals and sunshine lyrics to surf-inspired instrumentals, but that's not real surf rock.
Those who love surf rock love it in the way that reminds me of Michael Park's obsession with dance. He's not a professional dancer, and his passion hasn't made him rich or successful in the ways people tend to measure success. He says "there's something about the vitality of dancing that keeps you going." People often ask him how he's able to keep dancing at his age, as if dancing were somehow confined to the young, an infirmity that only inflicts youth. He tells them "this is my workout; this is what keeps me going." At least three times a week, Park dances. There are the shows he never misses – Unsteady Freddie's Surf Rock Shindig at Otto's Shrunken Head, Generation Wild at the Hotel Chantelle, Hangtime at Gonzalez y Gonzalez, and Behind the Groove at Le Poisson Rouge.
Years ago, before he quit dancing, Park wondered if dance was just a fad for him. He wondered if it was going to end at some point, when he was going to get serious about his life. "A lot of people in their thirties get serious," he says. "[They say] 'what are you gonna concentrate on, your career? Or what you really like to do in your spare time?'" He pauses, someone who's wrestled with just this. "Later on you realize, 'O.K., what is getting serious with your life? Does it involve an element of being happy with what you're doing? What do you want to be?'"
Madeline Grimes is a writer living in Brooklyn. She's written for Bitch Magazine, Brooklyn Magazine, and Budget Travel, among other publications.