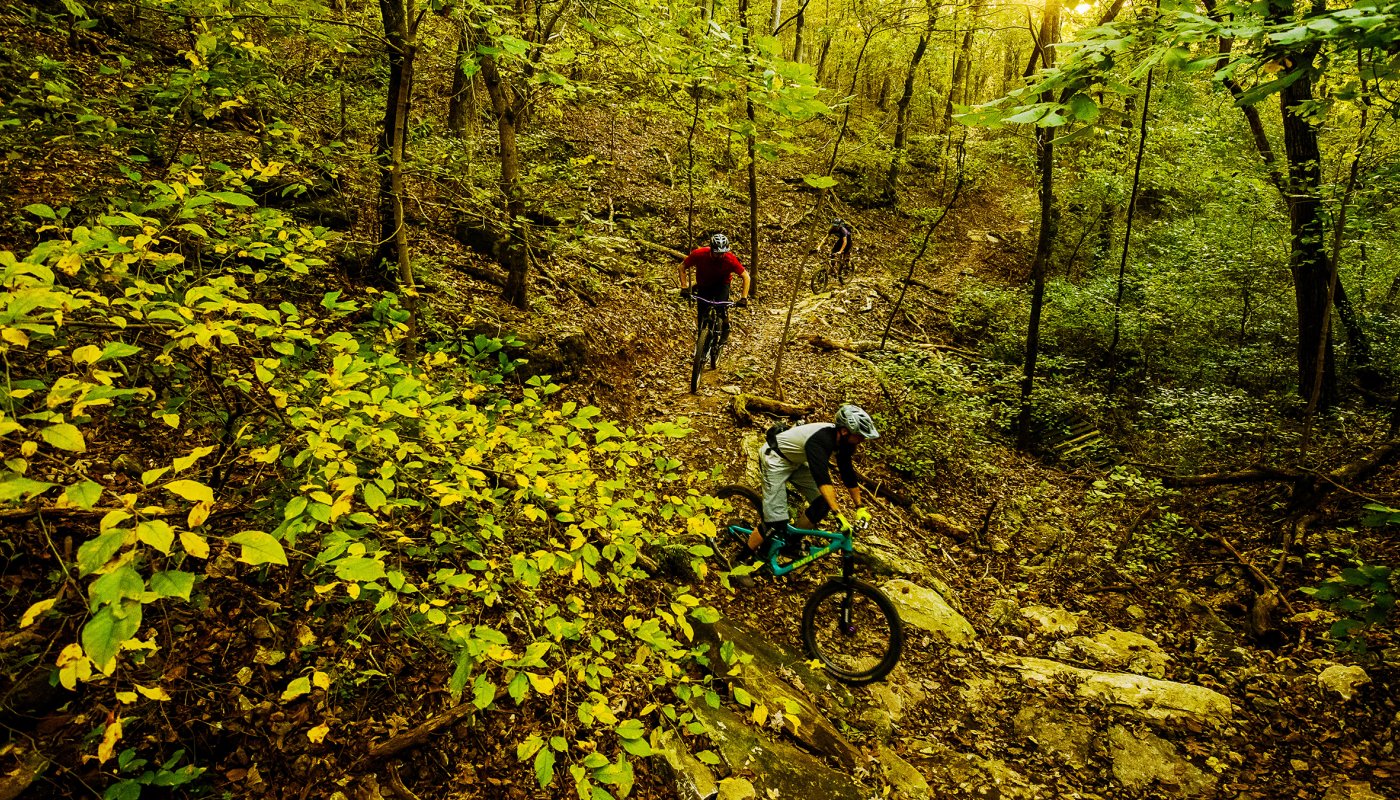 The best part of the job has always been the same—riding a new trail with friends or clients for the first time. Photo by Bruno Long.
Clayton Woodruff, vice president of Progressive Trail Design (PTD) in Bentonville, Arkansas, misses digging in the dirt. When he joined the mountain-bike trail-building company in 2010, just a few years after his brother, Nathan, founded it in 2007, he'd spend up to six months a year either in the seat of a miniature bulldozer, literally cutting new singletrack out of the raw earth, or following behind the machine, shovel in hand, to smooth it out. It was just him, his brother, and a few close friends back then. Today the company has about 30 employees, and Woodruff spends most of his work hours behind a desk, not heavy machinery.
"I was just telling someone that I've gone soft these days because, I'm like, Oh man, I need air-conditioning," he says. "But there is a lot less job stress when you know all you have to do is build stuff."
And no wonder. On a typical day for Woodruff, there's planning to be done, designs to be drawn, employees to manage, subcontractors to be hired, and an unbelievable amount of red tape to cut through. While a ground crew can knock out about a mile of new trail in a couple of hours if the conditions are right, it can take years to get the necessary erosion-control plans, environmental-impact reports, and other paperwork approved before a single shovelful of dirt can be moved.
Compared to that, actually building a trail is fairly simple. He and the other designers will look at a topographic map and start laying out possible routes based on the contours of the land and the scenic overlooks and features they want riders to enjoy. Once a route has been determined, they'll walk it and mark it with brightly colored survey flags, adding switchbacks and doglegs along the way to ensure the slope of the trail doesn't exceed an erosion-friendly 10 percent grade. Then, using a combination of experience and intuition for what makes a trail fun, the crew member manning the mini bulldozer simply starts cutting a track from flag to flag.
"That's where skill comes in," Woodruff says. "We compete against landscape construction companies for projects, but you almost have to be a rider to be able to go into the woods and visualize what that trail's going to look like. If you take that knowledge out of it, you're just digging in the dirt."
From there, the rest of the crew follows on foot, wielding hand tools to spice up the route and make sure it rides the way they want. That can mean ten- to twelve-hour days on the ground for weeks at a time.
Gaining that level of expertise, both at the office and in the woods, was a long journey for a company that began almost by accident. But looking back now, it seems a little like fate. If you're not a mountain biker, you probably know Bentonville as the home of Walmart's headquarters. If you are a mountain biker, you know that the sleepy Ozark town, population 35,301, is becoming one of America's singletrack meccas (which you can read about here, here, and here). But that wasn't always the case. When Clayton and Nathan were growing up in these hills, most of the mountain biking they could find was either on old dirt-bike tracks or trails built illegally in the woods.
Then in the mid-2000s, Nathan, who was working toward a career in education, helped build a few routes at a nearby state park, and when Bentonville started thinking about creating some new, downhill-style bike trails, his name sort of popped up for the job. From there he founded PTD and took on any project he could find, often subcontracting for larger organizations like the International Mountain Bicycling Association's trail-building division and sleeping in dingy RVs in parking lots to save money while working gigs. As the company grew, so did Bentonville and America's demand for quality singletrack, and PTD has since built trails everywhere from Bend, Oregon, to Baja California Sur, Mexico.
One key to this success could be the brothers' approach to their industry. That is, while they are very much your stereotypical mountain-biking bros who love drinking beer and shredding on their bikes, they're all business when it comes to their work.
"Mountain biking has this culture around it that's not taken seriously," Woodruff says. "If I was giving advice to someone looking to do what we do, it'd be to send in a professional e-mail and résumé. If somebody just sends 'What's up bro? All this seems chill,' I'm not inclined to hire that guy."
Today 20 of PTD's 30 employees work full-time year-round. It's their professionalism and institutional knowledge that lets them juggle the seven to ten projects they take on each year.
But no matter where their next project is or what kind of trail they're building, the best part of the job continues to be the same. No, it's not getting paid to ride (though Woodruff admits that's pretty great, too)—it's riding their new trail with friends or clients for the first time.
"It's just high fives all around," he says.