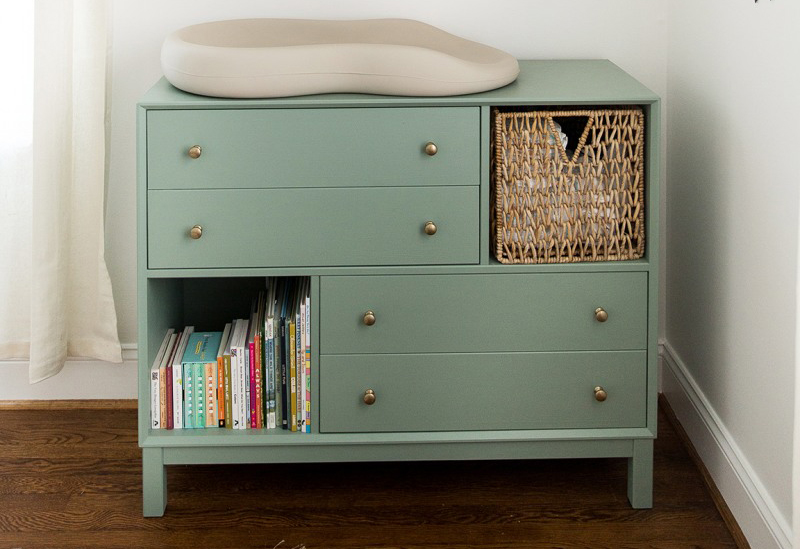 Photo courtesy of Fresh Exchange.
It's a tall order to find a stunning dresser that is also affordable. Large armoires are an investment (both budget-wise and from a square-footage standpoint). So what do you do when that dream piece does not exist? Cue IKEA, a can of paint, fresh knobs, and a few other craft supplies. From Hemnes to Malm to Tarva, all the Swedish retailer's offerings can be made to look custom if you're willing to dig out your toolbox and pick up a few extra materials from the hardware store. And because you're spending more time at home these days, it's a great weekend project that will make your bedroom an inviting, calm space. Pick your favorite look from these easy updates and put aside a weekend to get to work. 
Photo by Kourtni Munoz of House on Longwood Lane.
After assembling her Tarva dresser, blogger Kourtni Munoz of House on Longwood Lane made rectangular cutouts on the drawer fronts using a jigsaw. Then she stained the whole piece so it had a weathered oak finish and stapled cane webbing to the inside of the openings for a beachy-chic feel. 
Photo courtesy of Burnett Bungalow.
IKEA's Ivar three-drawer chest technically doesn't come with hardware, but blogger Janelle Burnett changed all that by adding Pretty Pegs's Greta legs and Stina knobs to two of the dressers (she displayed them side by side to make them look like one piece). The additions were designed specifically for the brand's furniture, so they attach seamlessly. 
Photo courtesy of A Beautiful Mess.
After struggling to find a campaign-style dresser for less than $1,000, A Beautiful Mess's Elsie Larson spruced up a Malm staple with Lewis Dolin bar pulls (they actually cost more than the furniture, but she says the overall savings is still significant). Next up? Corner braces, which she spray-painted to match the shiny brass rods.
Photo by Erin Kelly.
Skip specialized nursery furniture by transforming a basic Tarva dresser with some white paint and a colorful pad. Blogger and photographer Erin Kelly sewed the fabric for this cushion together herself. 
Photo courtesy of My Dear Irene.
In order to replicate the look of authentic Jenny Lind furniture, Angelica Kalatzi of My Dear Irene glued flat-back ball knobs around the edges of the drawers. The bright white primer (the blogger used Kilz's Adhesion sealer) instantly disguised its dark brown surface. Covering up the knobs will be your biggest time-suck, so Kalatzi recommends listening to a captivating podcast for that part.  
Photo courtesy of  Inter IKEA Systems B.V. 2016.
It only takes one unexpected material to turn a basic piece of furniture on its head. You don't have to buy fancy premade pulls for this update (create your own straps from leather from the hardware store and brass screws). The paint color is all up to you. 
Photo courtesy of  Fresh Exchange.
Can you spot the second IKEA hack? After painting this dresser green and adding sleek knobs to it, Megan Gilger bought two brackets from the company, painted them white, and installed them above the makeshift changing table. She topped the supports with basic wood planks from Lowe's. Between the cubbies and the shelves, there's plenty of room for books. 
Photo courtesy of A Cup of Life.
Shifra Jumelet stained the bottom portion of this dresser with a rich brown tone and painted the top a crisp white. But the real surprise was when she swathed all the knobs in a dark dye to create an optical illusion. No one would ever guess it isn't 100 percent bespoke.